The beginning… 
Sorry Dave, I know I made this decision without you, but I also knew that if I didn't pull the trigger, it would never happen. In 2014, while doing an internship with North Shore community college for my Vet Technician certification, I was headed to Briar Hill and I heard an ad for a general steel building. They were having a sale, and although I knew nothing about the building, I made the call and got a building ordered. The company assured me they had a local contractor to see the project through. Dave and I met with them in Bossier City. They made an impression and assured us that they could get us into a 40 x 60 building for $150,000. Yeah right! The total went over $200,000 and needless to say, in the end, we were not impressed with them. The dry walls, plumbing and electrical were not accurate to our plans and the concrete finish was terrible. Yet, here we were with the building and quite a project ahead of us. 
Our family was skeptical of my vision, to say the least. No one could get inside my head and figure out my vision. Dave, like any good husband, went along with about anything I would dream up over the course of the next six years. We had a sweet fellowship and lots of family workdays. Friends came to help, still not really seeing the vision, they trusted, and they were willing to do what needed to be done in that moment. I have an innate need to create. It's just in my bones. Creating drives me to think outside the box. It also drives most normal people crazy. I draw much of my inspiration from old things. I love to imagine the previous life of all of these objects. From all the hands that touch them before their life to after they are in a box thrown on the floor collecting dust, rusting, and being moved from one location to the next. I started hunting and gathering as many old treasures as possible. For years I hunted locks, keys, vintage silver plated flatware, buttons, scissors, old boards, spindles, porch rails, and the list goes on and on. 
The chance to push my creativity and ideas comes with this house we built from the beginning mostly from what was necessary and what can we could do to fix what the contractors screwed up. It was frustrating initially, but it became this challenge that I embraced and quite honestly became obsessed with. The truth is, most of the time when we were stumped, I would dream of a solution. The next morning I would share my dream and the solutions to the problem. I'd say nine times out of ten the resolution worked. We called our style "industrial farmhouse." I drew inspiration from magazines, DIY shows, and by visiting flea markets and antique stores. Ultimately, I wanted the finished product to evolve. I was against any of this build to look over-designed. 
The Highland Park house was a highlight of our project. We were gifted an opportunity to salvage materials from a 100-year-old home in the Dallas area Highland Park. The best five days ever! Dave, my sister, Ann, her husband Bill, my sister Pam, all Glamped in this fabulous house. We slept on blowup mattresses, went for popsicles at Steel City Pops every day, shopped daily at Trader Joe's and came home with beautiful floors, doors, trim, baseboards and charming odds and ends. The previous homeowner would leave notes for her husband, which we brought home with us. There's something about handwritten notes and old penmanship that has a soul. 
One big takeaway from this awesome house was the vintage music publication. I decided to incorporate the colors into our design. They displayed perfect mustard yellow and pretty gray. That mustard gave me a run for my money. It didn't exist, so I mixed it using my own craft paints. I finally mixed the perfect color and I went for it. 
Perfectly Imperfect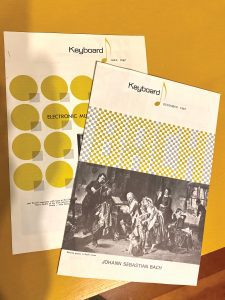 I was told it looked like poopy diapers, and I would not like it. Yet, I loved it. There's something nostalgic about the gray and gold along with some reds, blues and greens. These colors speak to me. I feel wrapped in a big old golden gray hug. Wouldn't you know, this mustard gold is now all the rage and super easy to find.
We said for six years that we would be "finished by Christmas." Our family gathered this past December in our house which became our greatest "labor of love." Each Sunday, for every birthday and holiday we come together in this space that we now call home. We have a mishmash of random colors, art and furniture, but somehow they work together, at least in my mind. They present a perfect mix of colors and life for our perfectly, imperfect house. That just became my new motto "The perfectly imperfect house." My vision is complete and everything is perfectly imperfect in every way. Each inch of this house tells a story, and what a story it is to tell!