Elizabeth Trentadue Copeland brought her own big shoes to fill when she came into the world, a few bouncy grandmother's decades ago. "I get so excited when I think about my first Christmas memory," she says. "I must have been only 3 when my mom bought me a playhouse kitchen and outfitted it with an apron, a mop, a baby doll – everything I needed to 'set up house.' When I look back on that experience, I think it was a sign that I would eventually end up in the hospitality business."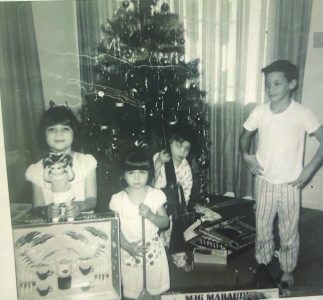 Daughter of New Orleans natives Lynne and Rodney Trentadue, Liz grew up surrounded by a multi-generational family who owned and operated food businesses, mostly restaurants and grocery stores, in multiple locations around the city. "My aunts were some of the hardest-working women I've ever known," she says. "Early on, it was because of how hard they worked that I decided I would never be in the food business. I set out to be a schoolteacher."
Elizabeth's mother was right about the trajectory of her daughter's life. "My mother must have known something when at 14, I met Al on a blind date. We've been best friends and business partners ever since we married. But the magic between us and our families really started way back then, during the holidays. Like thousands of other New Orleanians, our families made annual pilgrimages to see holiday lights displayed at the home of Sam and Myra Centanni."
According to local historians, Miss Myra's labor of love was on display for nearly two decades. Each year, she showcased a different theme and filled the yard with lights, music and animated figures – a rarity during that analogue age. After Miss Myra died, Mr. Sam turned off the lights for good.
Elizabeth's face lights up as she recounts how two family histories merged around holiday lights. She begins with Mr. Sam Centanni and his father, Antonio, who founded the Golden Seal Creamery in 1920. "Famous for their ice cream and for their Creole cream cheese, Golden Seal was the last known New Orleans supplier of this product, said to have originated among the French in the early 1800s. My grandfather, Philip Fury, was their first milkman – which is why I remember attending parties at the Centanni home when I was a young girl. And one of the other people who was particularly inspired by the Cetanni House turned out to be my father-in-law, Al Copeland."
Alvin Charles Copeland, Sr. (1944-2008) founded Popeye's Chicken and Biscuits in St. Bernard Parish in 1972. Almost three decades later, his eldest son, Al Copeland Jr., became the CEO of Al Copeland Investments, a family of hotels, restaurants and comedy clubs throughout the United States. Liz is an executive partner and officer in each of the businesses she owns with her husband.
When Mr. Centanni died in 1995, one of his sons says a Christmas wreath, complete with working lights, showed up among the flowers at the funeral home. The card read, "To Mr. Sam, the King of Christmas. From, Al Copeland." Eventually, Mr. Al made his own holiday decorating dreams come true. For years, he decked out his upscale Metarie home with huge holiday-themed displays, which everybody loved. But the absolute favorite, the one everybody still begs to see, is the life-sized Nativity.
"Most people didn't get to see the loving side of him," Liz says of Copeland, Sr. "He had a generous spirit, often contributing to causes without asking for recognition. Most of all, he loved having his entire family together – aunts, uncles, siblings, children and grandchildren. It wasn't unusual to have 40 people on our family vacations. We still do that!"
"Big Al" had a spirit larger than life itself. New Orleans newspaper columnist Chris Rose noted, "I'm a big fan of over-the-top. A big fan of celebration. A big fan of lust for life. A big fan of Big Fun. Copeland epitomized these things. He was one more guy who put his life on display for all to see…"
But the story doesn't stop here, Liz insists. "After my father-in-law died, the Copeland family estate discussed the Lakefront house, and intended to tear it down and dedicate the land as an Al Copeland memorial park for public use. Ultimately the idea flopped, and the lot sat empty for four years. One day, while we were riding bikes on the levee, we decided to build what he calls our 'lifetime achievement house'. I call it our Forever Home. We actually did it. Now, it's the home where we carry on the legacies of both families, including our five daughters, six grandsons and one granddiva!"
It's also the site of a new generation of holiday decorations. "We definitely don't do the 'grandstravaganzas' anymore, but we do love sharing what everybody seems to enjoy the most: Mr. Al's Nativity scene."
Liz recalls how the Copeland property seemed to fit their want list. It was on the water, a must for Al who grew up connected to water sports and racing. It was spacious, like Al Copeland Sr., a larger-than-life family personality. And it was big enough for the legacies of two families with roots in the food industry, the most basic and beautiful expression of hospitality.
A 2018 article from Nola.com describes the Copeland 2.0 mansion as a grand neoclassical exterior with Doric columns, symmetrical fenestration and a triangular pediment. By contrast, its predecessor had a decidedly Mediterranean feel, thanks to its tall arched windows and tile roof. A few original elements from the previous estate remain: Big Al's palm trees, gate (cast with the initials AC) and for Christmas, a life-sized Nativity set.
"Every year, we get asked if we're going to decorate for Christmas," explains Liz. "After Mr. Al died, we memorialized his Christmas display collection as part of the annual Christmas Lights Display at Lafrieniere Park in Jefferson Parish. The Nativity, however, is still with us!"
Just like the Nativity, Liz and Al started their own family. "Al was 25, and I was pregnant with my third daughter when we opened the first of our own restaurants," says Liz. "Al's mother, Mary LeCompte, is the one who taught me how to do the books, as well as how to balance family and work life. She inspired me to enroll in management school. Certainly, I wanted to teach my daughters the value of hard work and education, but mostly I wanted them to know how to be a good human being. In the process, I absolutely fell in love with the restaurant business, and I can't imagine myself doing anything else but this."
If there's one thing Liz Copeland doesn't do, it's one thing. For starters, she has five daughters and has been married 38 years. As Legacy Ambassador for the Al Copeland Foundation, Liz and her husband, the foundation's president, want to save lives by finding a cure for Merkel cell carcinoma, a rare form of cancer that killed Copeland, Sr. On Easter Sunday in 2008, Mr. Al's body gave way to the legacy of love his family created to support new local cancer research, education and patient programs at the Copeland-LSU Health Science Center Partnership in Viruses, Cancer and Immunotherapy. "Because ACF believes we are on a path to fulfill a wish, to save lives and end cancer, we host annual golf tournaments, fashion shows and invitation-only holiday parties, and still love sharing the joy of holiday lights," Liz says. "But the greatest joy of all is knowing we are saving lives."
Ask anyone involved in New Orleans' area addiction recovery communities about saving lives. They know Liz Copeland. Recently honored by Bridge House and Grace House as a Woman of Substance supporter, Liz says she can't imagine a better investment of time and resources. "Being a good human means helping people when they need help, and we all need help sometimes. Ask anybody who's lived through a hurricane. Or a divorce. Or anything that seems bigger than you can handle. That's what we're here to do. We're here to say yes to hope, yes to possibilities, and yes to the future. We are better together, no doubt. If we do it right, it looks like Love. And that's the best present of all."
To donate to The Al Copeland Foundation visit www.alcopelandfoundation.org
Rebecca Bingham is a travel writer who lives in a retrofitted condo inside the first resort on Lake Hamilton in Hot Springs, Arkansas. When not on the road, she plays cello in her own string quartet and officiates weddings. She also mainlines Sumatra and makes off-color jokes in art galleries.