Written by Bevin Hicks • Roohi Photography
In 1985, Helya Mohammadian and her family, originally from Iran, immigrated to Ruston. She was 2-years-old at the time. Her parents made the heartbreaking and difficult decision to seek asylum in the United States due to the Iran-Iraq War causing their freedoms to be taken away. Helya, along with her parents, sister and brother, lived in a tiny mobile home. The family initially struggled to learn the language and to create a new life. Her mother Parvin and father Manoocher worked tirelessly to provide. Parvin worked as a hair stylist for many years until she opened her own salon. Entrepreneurship runs in the Mohammadian blood. Helya's parents continuously encouraged hard work, education and independence in their children. Their sacrifices and courage have been a true testament to the American Dream.
Growing up in Ruston, I was lucky enough to become friends with the force that is Helya Mohammadian. She was loved by all that knew her beaming with positive vibes and a megawatt smile. She is one of the most genuine people I have ever known. Helya was never involved in the typical adolescent scene and carried herself with humble confidence, a hard combination for any young girl to embody. Her natural sense of style was lightyears beyond a small-town, nineties kid. Never too much, just enough to know, she was a little bit cooler than your average girl. It was as equally apparent as her stunning beauty that this girl was going to do something big one day, and that has indeed come to fruition.
Helya and I shared a house together with two roommates while in school at LSU.  What a fun chapter in our lives this was. Often (probably too often), I would walk downstairs to Helya's bedroom, most likely dressed in low-rise jeans and a halter top, I would beg her to join us for "just one night out on the town." She would sweetly giggle at her far less goal-oriented friends and go back to working on her designs. This girl had goals and nothing was going to stand in her way of reaching them, not even happy hour at Bogie's Bar.
The self-discipline she demonstrated left an unforgettable impression on all of us. Each day she would get up at the crack of dawn, go to class, go to work and then burn the midnight oil working on her design portfolio for New York's Fashion Institute of Technology (F.I.T). Even though we wished she would show a tad bit of irresponsibility, we earnestly admired her dedication. Helya, passionate about fashion and the creative arts, dreamed of living in New York City as a fashion designer from the age of nine. After countless late nights and steadfast grit, at 21, her dreams of moving to New York came true. Helya was accepted into The Fashion Institute of Technology. There were never any doubts that she was going to change the world in some way. Having the honor of watching her fortitude payoff has honestly inspired me throughout all my endeavors.
After graduating from F.I.T, Helya spent several years as a personal shopper at Bergdorf Goodman. She worked with famous celebrities, well-known socialites and the "who's who" of New York's Upper East Side. Graduating from F.I.T., a career in fashion felt like a natural fit, but she began to feel like something was missing. The high fashion, big money environment was leaving her unfulfilled. This is when she decided to go back to the drawing board. It was time to make her own magic happen. She wasn't certain where the road would lead her, but she had faith that she would find her way. 
"I gradually felt my love for working in the fashion industry fading away and found myself surrounded by only material things," Helya said. "In the end, my unhappiness was a blessing in disguise because it led me to create my company!"
In 2014, Helya's sister Rana was recovering from a C-section. In order to help with Rana's uncomfortable recovery, Helya began investigating. In her search for an alternative to mesh underwear or adult diapers, she quickly realized there were no options on the market. In regular Helya fashion, she decided to create her own design for adaptable underwear. Her first attempt was somewhat unsuccessful, but after a couple of "I'm not giving up" attempts, her product came to life and Slick Chicks was born. 
In comparison to traditional underwear, Slick Chicks has a side-fastening design making them much easier to take on and off. This gives new mothers an alternative to hospital mesh and disabled women the flexibility and convenience to change on their own. When Slick Chicks was initially launched, Helya never imagined her product would have such a huge impact on people's lives. She started receiving messages from women who were not able-bodied, thanking her for making their lives a little easier. Disabled individuals make up the largest minority group in the world, 15 percent of the world's population, yet there is still a huge empty space in the market for adaptive fashion. For these 27 million women, the simple daily task of changing or getting dressed can be burdensome and challenging. Slick Chicks is giving these women back a piece of their independence and dignity.
"Even though I am able-bodied myself, I am passionate about disabled people being acknowledged by the fashion industry," Helya said. "Just because someone has a disability doesn't mean that they do not care about fashion, or that they don't enjoy how great the right clothing can make them feel inside and out. There is a way to bridge the gap between fashion and function. I am excited to build an underwear line that innovates a product most of us take for granted every day. I believe everyone deserves to feel and look good!"
Becoming an entrepreneur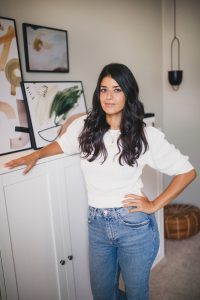 Helya's focus to make her mark as an entrepreneur hasn't come without feelings of self-doubt and fear of failure. Helya entered this adventure of becoming an entrepreneur having little knowledge in business development. She had the work ethic and created a product she believed in, but felt unsure of the risks that come with a startup company. She tackled the challenges, did the work, and continues moving forward with huge success. When asked what she has learned as an entrepreneur this is what she said.
"I have learned, and I am still learning, that it's ok to be vulnerable and to make mistakes. I can't beat myself over a failure or a rejection because it is all a learning process. If I could go back in time, I would tell my 20-year-old self that it's ok to not have the answers and to make mistakes. Remember why you started and focus on the one thing that drives your passion. That is what motivated me to become an entrepreneur in the first place. I have gotten too caught up in the entrepreneurial lifestyle at times and lost touch with the real meaning behind my product. I needed to take a step back and refocus – the most important part of my company is helping people to live a happier life; not money and profits."
Success doesn't happen overnight and although the process has been daunting at times, Slick Chicks has undoubtedly made a mark in the undergarment industry. In 2016, after two years of research and trial and error, Slick Chicks hit the retail market by launching their website and selling three original styles: bikini brief, thong and boy short.  In June 2016, Slick Chicks launched on Kickstarter, seeking $15,000. The project was successfully funded and raised a total of $17,672. In August of 2017, Slick Chicks' trademark was granted for use in commerce, specifically lingerie, and in 2019, Slick Chicks acquired a certified patent for their inclusive line of undergarments. Slick Chicks has earned much applause within the inclusive and adaptive clothing industries, including features in Forbes, Fashionista, and Refinery29. Slick Chicks can be purchased at Target, Nordstrom, Aerie by American Eagle and many other retail stores across the map. 
"It's the simplest things that make the biggest impact and the biggest difference," Helya said. "The first thing I think about was when people say, 'We all put our pants on one leg at a time,' no, that doesn't apply to everyone. The world is changing, and we have to change with it. We have to encourage people and support everyone if we want to grow."
The world is changing because of women like Helya Mohammadian. She is bringing positive change to the lives of millions daily with her dynamic character and grace, just as she did for her college roommate nearly two decades before. 
To my small town, Louisiana friend with big dreams – how proud we are to watch you soar! Now, I think it's finally time to have that happy hour.