In the great debate of children's' birthday parties, some say go all out, and some say keep it simple. Nicole Davidge, owner of Southern Shutter Photography and mom to Dixon (5) and Maison (2), has an undisputed knack for planning the most magical celebrations. When it comes to going all out, Nicole is all in, from creative details at home to fairytale venues complete with real-life princesses.
Nicole has her own philosophy for big birthday parties, she admits, "If it were up to my husband, David, we would have a grocery store cake in the kitchen and call it a day. Not that anything is wrong with that. I just enjoy doing more." Lucky for her, David stands back and lets her work her magic. Nicole says, "My philosophy on going big for a birthday is making my children feel extremely special on their day. A birthday is one celebration devoted to each individual person that they don't have to share with anyone else. It's even more special to me, because it's the day they both blessed me by coming into the world. I want to celebrate their life to make them feel as special as they make me feel. Birthdays are a big deal, and I'll take any excuse to celebrate my children."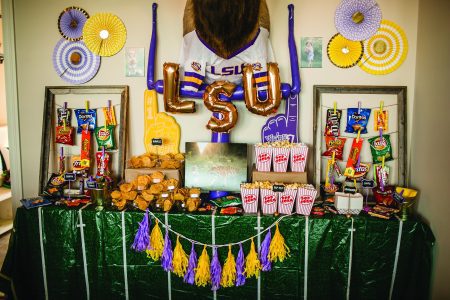 Many of Nicole's immaculately planned birthday parties are themed to celebrate her children as individuals and to include all the fun and culture of Louisiana. Nicole feels that when living in Louisiana, our culture becomes a part of your soul and she wants to highlight that through her children's lives and their family's festivities. The Davidge family thrives on entertaining and opening their home that is full of joy and warmth to family and friends any chance they get. She explains, "We love football, food and the company. It's a culture here. When I design a party, I like for it to be for everyone, not just the kids. Everyone deserves to enjoy themselves, so I create themes that are relatable to us and all of our family and friends. Everyone can participate. We've watched Saints games and LSU games and even a small jazz brunch at Commander's followed by a trip to the Audubon Zoo. I like to think about everyone and not just cake, ice cream and presents."
Anyone who has thrown a birthday party knows that cost can quickly add up, Nicole offers some tips on going big but not breaking the bank, "Budget hacks are a must for big celebrations. Having events at your home will cut back on venue cost or leave the budget more open for other things. I also create everything on my own instead of reaching out to have it made. I make my own signage, labels, sometimes balloons, and banners. Amazon is a great spot to order party supplies, especially in bulk. I like to shop around to find the best prices for items I order online. Be sure to purchase things like cake stands, serving pieces and tablecloths that you can use over and over for several different themes. You can add an inexpensive yard of sparkly or printed fabric that matches your theme to a solid tablecloth and voilà, it looks great and saves money."
Looking back over Nicole's "labor of love," there is no denying these bayou birthdays have created some of her most cherished memories. "On Dixon's second birthday, which was LSU, he sang happy birthday to himself and made us relight his candle five times.  He was also the leader of a second line in our back yard. I'll never forget the smile on his face that day. He felt the most special! Oh, and Maison at her Jazz brunch. She had on this hot pink fringe jacket and the waiter brought her a special drink with a yellow duck in a chef's hat floating in it. She put on her sunglasses and sipped her drink like she had brunched a thousand times before. It was the cutest thing I have ever seen! Party planning can be a lot of work, but the priceless moments make it all worthwhile." The Davidge family certainly knows how to "Let the Good Times Roll" by celebrating life in swoon-worthy.
It
'

s Saturday in

Dixon Valley

Geaux Tigers in every single detail. This LSU Football themed party brought Tiger Stadium home complete with all things purple and gold! You can't have football without the nachos and popcorn!
Let the Good Times Roll, Our Little King is 3
With a few friends and family Dixon turned three with a New Orleans Mardi Party filled with gumbo, king cake, sweet family and Dixon kicking off his own birthday song, five times in a row!
Who Dat Say
Dixon is
5
?
!
Sunday night football style while watching the Saints beat the Falcons. Dixon, also known as Mr. Social, loves a party. Complete with a bouncy house, a second line and a piñata, he said this was his favorite birthday ever.
Commander's Palace and they all asked for you,
Maison is turning 2!
During group restrictions the magnificent Commander's Palace, one of the oldest and best restaurants in New Orleans, provided the perfect fun and festive birthday brunch. With sprinkle-rimmed glasses and rubber ducky drinks, the jazz band played and the celebration continued.
Old State Capital
Princess Ball
Fairytales do come true when blowing out your birthday candles at your very own princess ball. The stunning backdrop of Louisiana's old State Capital and a host of real-life princesses made way for a truly magical birthday for Maison and her mini-princess friends.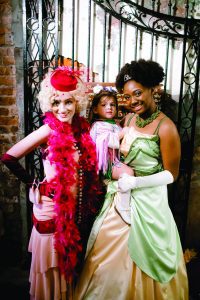 Louisiana Mardi Gras
Brunch at The Court of Two Sisters
A little sass and a lot of glitter surrounded the birthday girl at New Orleans's Famous Court of Two Sisters. With authentic New Orleans cuisine, boas and fringe, this French Quarter Brunch celebrated turning two in true Louisiana girl fashion.
I'm Nicole Davidge and I love finding the beauty in the ordinary. I'm a photographer but most importantly a wife and mother. We are just two kids raising two kids in Louisiana. We yell who dat and geaux tigers and dance in the kitchen until we fall asleep.