Brenda Pettit's chance encounter with a treasured memory at McCary's Jewelry
The date is New Year's Day, 1959. The place is New Orleans, at what was then Tulane Stadium. Football fans from all over are gathering for the 25th Annual Sugar Bowl Classic Game to watch a showdown between two teams: the LSU Tigers and the North Carolina Clemson Tigers.
At the time, LSU was the top-ranked college football team in the nation, with Clemson coming up as the 12th ranked. Still, Clemson was determined to try knocking LSU down off their pedestal. The game was a truly thrilling one as the LSU Tigers came in for the win with a score in the third quarter and secured the title as winners of the 1959 Sugar Bowl.
To make the game more memorable and to celebrate the 25th anniversary of the Sugar Bowl, it was decided that a traditional court would be held. The court consisted of a maid to represent all of the football teams that had ever played in past Sugar Bowls. Before the start of the LSU versus Clemson game, all of the maids toured around the stadium in convertibles to wave to the gathering crowds. They then assembled on the field as the President of the New Orleans Mid-Winter Sports Association crowned the queen.
Of course, 1959 might feel like a lifetime ago to some people. Indeed, it was a different time period where events such as the Sugar Bowl were not as well documented as in this age with technology. That is why it is not hard for one to imagine Brenda Pettit's surprise upon walking into McCary's Jewelers one day to see a blast from her past.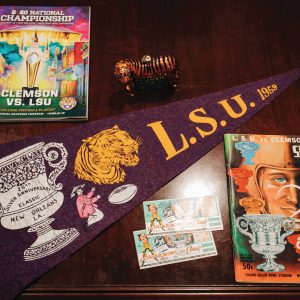 McCary's Jewelers, now located on Fern Loop, have been a staple in Shreveport for over 75 years since their opening in the 1940s. Having been around for so long, the shop is a favorite of long-time Shreveport resident Brenda Pettit. So upon heading into McCary's for some casual perusal and glancing at their latest display window, Brenda was shocked to see an original 25th Annual Sugar Bowl program showcased there. After asking to take a closer look at the program, Brenda discovered that it included her own picture from back in 1959, as she had served as a maid on that very court.
"I was so excited when I saw that program, I hadn't seen it in maybe 60 years," she commented, not knowing where her own program had gone to after all that time had passed. "And of course that wasn't the day where you had a phone with a camera on it, so there are no pictures of all that went on."
Originally from New Orleans, Brenda had been going to Sugar Bowl games with her father since childhood. Although Brenda attended LSU for college – where she majored in chemistry, physics, and microbiology – she was well acquainted with some of the students at Texas A&M. Being that Texas A&M had won the 1940s Sugar Bowl and needed a stand-in for the court at that 25th Anniversary, Brenda was chosen to represent the school as a maid to the crowned queen. The vivid memory of driving past Tulane Stadium and hearing the cheers of the fans still remains fresh in her mind.
"I remember riding around in the convertible and having people yell 'Hey Brenda!' so I thought they all knew me. When, no, they had just read my name off the car," she recounted, laughing.
After graduating from LSU, Brenda married and relocated to Shreveport. She now spends her days surrounded by her children, seven grandchildren, and one great grandchild with two more soon to come! To no one's surprise, Brenda and her family remain big fans of the LSU Tigers football team. The school holds a special place in her heart not only because it is where she attended and graduated from, but because both of her sisters and three of her four children attended it as well. She still watches each LSU football game to this day and has stuck with the team for every high and low.
It is rare to find such documentation from events in that time, and it is certainly not every day that you stumble across a little piece of your own history like Brenda did when walking into McCary's that fateful day. Although Brenda was given a pendant for the 25th Sugar Bowl, she does not have any other mementos to remember the fun-filled period, so seeing her picture again was a delight indeed. Being brought back to that crisp New Year's Day with the excitement of the game, the cheering of the crowd, and the celebration of the sport she loves is something Brenda is sure to treasure for years to come.