Greetings, my fellow Quarantinies! Now that we've all been huddled in our homes for well over a month (though it feels like two or three), it is more important than EVER to LOVE our interior surroundings! Being cooped up for this long can be depressing and give you a world-class case of the blues. I for one am ready to ring in 2021 and bid a one-fingered salute to 2020! 
The only project we've finished this year is an absolute jewel of a room. Actually, we redid 4 rooms, but I'm only gonna focus on the main seating area. This room is meant for youngsters so there is an absolute playfulness to it, but it is by no means childish.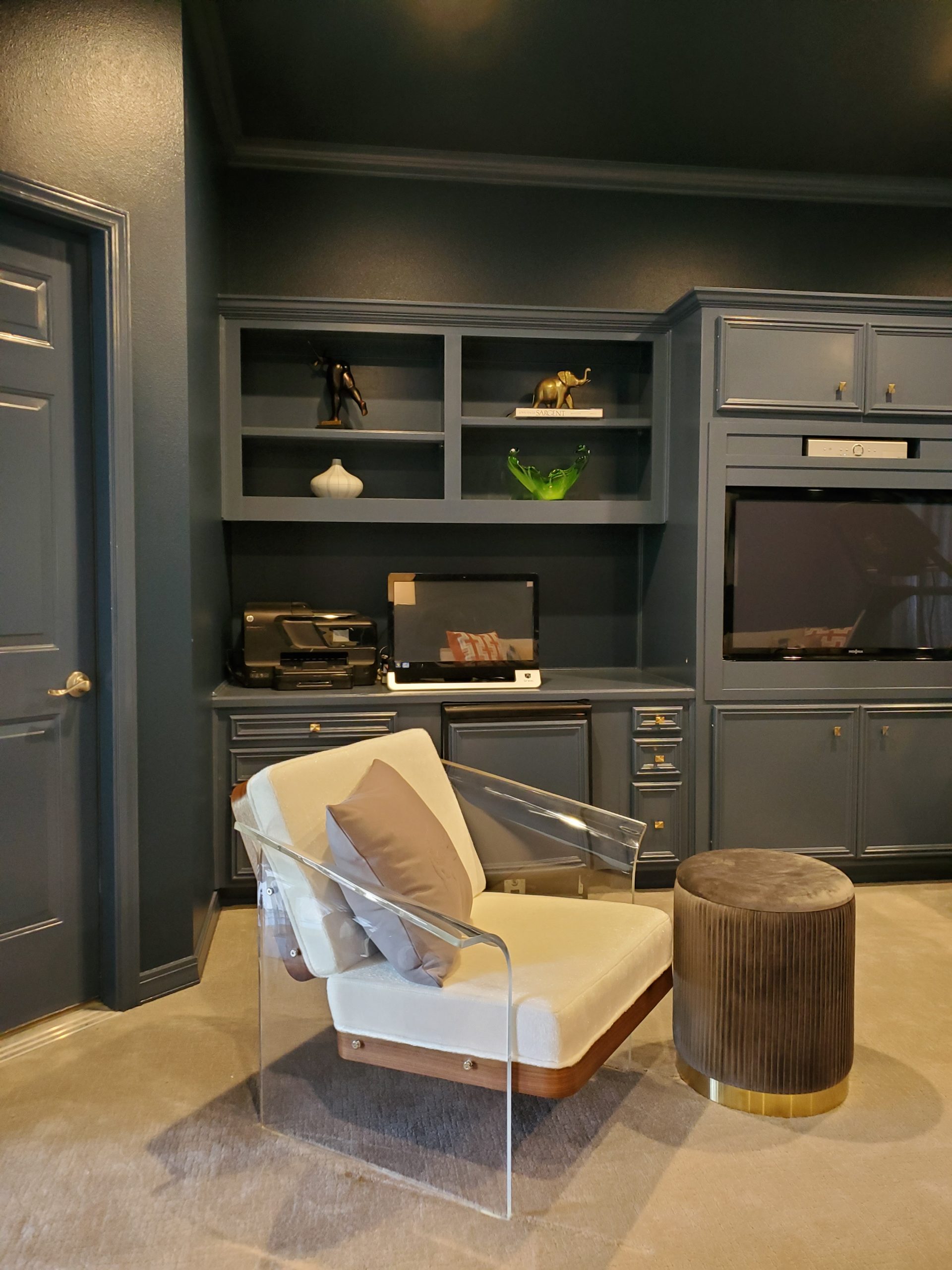 Because it is primarily intended for kids (12 and under), it gave us some creative leeway in our color palette, art and furnishings. The "moody" blue color we selected is called "Sea Serpent" by Sherwin Williams. This deeply saturated color gave us the vibe we desired, but also a beautiful backdrop for art/furnishings. We painted EVERYTHING in this color: walls, ceiling, molding, baseboards, crown, doors, shelving and even tried to match the drapery. We refer to this look as "dipped," like we had literally dipped the entire space into a giant paint can. The effect is a perfectly moody T.V. room which is dark, but colorful, and I love everything about it! The blue ceiling runs into the foyer against alabaster white walls and is crowned with one of the coolest chandeliers (Henson's) I've purchased to date!
The sectional (All-Modern) provides ample seating for the grandkids and they are even encouraged to prop their feet on the coffee table (HOUZZ). It has a concrete veneer and acacia wood slats which are virtually impervious to stains and scratches. We dotted the sofa with artsy-fartsy pillows that none of the chirren will know the artist, but appreciate their artistic playfulness. The standalone piece is a lucite, mohair, and walnut chair from LumiSource and was 75% off! This chair was originally over $2000 and is a showpiece! We paired it with a cute lil velvet hassock (with storage) from Ivan Smith and an embossed LaCoste pillow. The brass/glass side table is also from Ivan Smith and the blue column lamp and art above sectional are from HomeGoods. All of this sits atop new plush carpeting from Henson's, which continues down the stairs and into two adjacent bedrooms. All-in-all, it's the perfect space to be quarantined, hang out, watch a movie and relax, especially if you have the "blues."