The Catwalk to Fashion Prize Comes Wrapped in Diamonds and Silk
Imagine driving up to the entrance of Horseshoe Casino and being greeted by a fountain full of mermaids adorned with seashells. You approach a table full of hors d'oeuvres and shish-kebabs and make your way around the perimeter of a tropical space to visit vendors selling goods under flowy cabanas. More mermaids are floating in a lit pool, tossing around glow urchins while basking in the glittering sunset of the last evening in May. Then the main event starts. Models emerge, strutting across a runway floating on top of the shimmering pool, showing off collections varying from elaborate evening gowns to neon swimsuits. This was the setting of the 2019 Fashion Project which took place at Horseshoe Casino's Dare Ultra Pool. It was the first time the annual fashion show created by Katy Larsen, owner of the Agora Borealis, partnered with the Prize Foundation. This turned the usually themed fashion shows Larsen has been curating since 2015, into a fashion competition. It was a time of summer fun and innovative clothing designs. This year promises to be an even bigger experience. 
In lieu of a breezy and sunny walkway, you will be led into an area embellished with beaded chandeliers, wall sconces, and draping sheers all aglow. Jazz music will be flowing through the air. You'll be served a multi-course dinner prepared by renowned chef and Shreveport native Blake Jackson, who has recently been featured on Food Network. These succulent dishes are being created to complement the outfits being modeled around the ballroom, which are from the collection crafted by Donna Strebeck, winner of the 2019 Fashion Prize. VIPs will enjoy the premier lounge room, where guests can catch the main event while sipping on a local favorite Great Raft Beer and perusing the Bailey's Jewelry Diamond Bar. Silver Lake Ballroom will house hundreds of models displaying over a dozen designers' looks in a space usually used for bridal showers and weddings.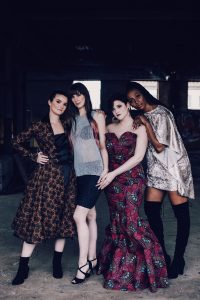 The annual Fashion Project is the preliminary round for Fashion Prize. This is a competition where designers from all over the region sign up to show off their skills in front of a broad audience of fellow fashion lovers and judges. The first event takes place in the spring on Friday, April 17th, 2020. Only the top three designers of Fashion Project will be able to show their expanded collection at the Fashion Prize, the second and final leg of the competition. The FashEx team, designers and models are excited to have another opportunity to collaborate with the Prize Festival, this year at the beginning of October. One designer will be crowned the winner of the 2020 Fashion Prize and take home a reward of $2000. The Fashion Project & Prize have already gained national attention in bigger cities such as Santa Fe, New Orleans, Memphis, Atlanta, and Brooklyn. 
As exciting as this annual event is, it does have a deeper meaning; it is a chance to see the hidden talents of Shreveport and Northwest Louisiana, an area where many people feel exciting things rarely happen and creative outlets are few. Attendees will have the opportunity to see models of different gender, age, shape, race and size, putting diversity to the forefront. This event opens doors for designers and models who never thought they'd see themselves on the runway. It also focuses on sustainability, keeping the integrity of the environment in mind. Picture yourself buying a beautiful garment from the event, knowing you're doing your part to keep the environment safe, and your money goes into your neighbor's pocket. 
The Fashion Project & Prize all began when an associate asked Katy Larsen about what wasn't selling in the marketplace. It forced Larsen to be mindful that wearable art could use a bigger platform and a sustainable course of action in our local arts community. In January of 2015, with the help of friends and supporters, the Agora Borealis held its first fashion show, showcasing designs by local artists with the theme of Mardi Gras. Each year the fashion show expanded, quickly outgrowing the store space and moving into various venues around town. I personally remember going to the 2017 fashion show themed Shrevepunk. This show was a nod to steampunk fashion taking inspiration from the designs of the aeronautic, locomotive and vast varieties of architectural cityscapes of Shreveport. At one point a model walked on stage in a dress that seemed to be made of champagne glasses. She then filled the glasses, plucked them one by one from her bubbling gown and handed one to each VIP guest mid-show. A true vision of Dreamport! 
The 2019 Fashion Project & Prize was the first of its kind. Designers weren't restricted to a specific theme unlike years prior, and it was the most impactful experience yet for fashion lovers in the SBC. In fact, last year's event held over 350 guests in attendance, including the Shreveport mayor. This year, however, there are over a dozen competing designers with over 150 models walking for the event and an expected attendance of over 500 guests. There will be designs ranging from soft and whimsical, to classic and vintage, and even retro pop with a modern flair. You're bound to find something that will catch your eye and make you fall in love with local, wearable art once more. Although only three designers can advance to Fashion Prize for the final round in the competition, all the designers will get a chance to showcase a portion of their collections at the finale. Most of this year's designers are local, giving audience members a chance to purchase a designer's work from the Agora Borealis marketplace or get something custom made. Who doesn't want to wear something that is one of a kind?!
If you missed last year's event, don't make the same mistake twice; catch the 2020 Fashion Project! The event takes place Friday, April 17 at Silver Lake Ballroom on the corner of Market Street and Lake Street in downtown Shreveport. Tickets are on sale now. You can purchase tickets online at https://tinyurl.com/FashionProject2020 or follow the link from the Fashion Prize 's Facebook event page. Call the Agora Borealis Tuesday through Saturday from 10 AM to 6 PM for more information. 
Designers competing in 2020 show: