Well my goodness gracious, it's 2020…Sounds so futuristic, doesn't it? But, alas, no flying cars, no personal jetpacks and we still put our pants on one leg at a time.  Some things never change, but styles and trends do. It is my job to be aware of new trends, colors, styles, etc. So let's just jump right in, shall we?
Colors 
Warmer tones are making a comeback. Not abrasive vivid colors like red, orange, yellow, but their softer-toned cousins of merlot, burnt orange/terracotta and ochre. These colors are best used in moderation as accent colors in furniture, rugs, art and maybe just the ceilings. An entire room painted ochre may be a bit much, so just remember, too much of anything is too much! White and grey are still popular colors and we still use them, but grey has definitely had its peak, so don't paint your entire home grey instead of beige/tan. If you do choose this color, vary the tones in different rooms, just paint your molding the same in all rooms. I also love black, glossy (for a modern vibe) or matte (for a formal vibe). Either is fine with me and you know what they say, once you go black…! Smoky blues, pale blushes and greens are always good, too.
Materials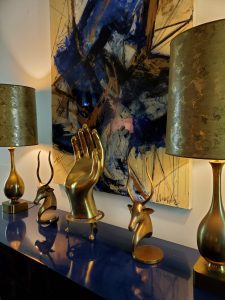 Natural and plush materials are HUGE this year, especially when layered. Sheepskin/Mongolian leather, concrete/stone, and natural wood should make its way into your accessories or room this year. Think tactile! Natural linens, raw silk, velvet, and a host of plush manmade materials can be introduced into your space to give it a cozy, comfortable and inviting vibe. Oh, if you choose to have concrete floors, then please, I beg you, leave them the natural color, stained concrete is a 20-year-old trend that just won't seem to go away…like Cher's Farewell tour!
The Mix
This is really the cornerstone of what Space: interiors is all about. Mixing in heirloom, estate pieces with more modern, current pieces. This will give your home a "collected-over-time" feel and not merely purchased. I love to recover an inherited or purchased antique chair in modern fabrics; it's the perfect blending of old and new. Don't be afraid of this mixing technique. I am a firm believer in the visceral response to items or fabric, in that, if you "love it"…it will work! Trust your gut! This mix also works with fabric and prints. The key is a unifying element like color, texture or pattern. If you repeat a pattern such as a stripe, then you can use multiple colors in one space and the stripe will make it cohesive.
Accessories 
Metallics, organic, and oversized. These 3 looks will be very popular this year. Gold is still King in 2020, whether shiny, mottled, matte or tarnished, this finish is at the very top and you should have some somewhere in your home! Organic can mean a lot of things, but I'm talking about pieces made from stone, marble, wood, brass, bronze or steel. These finishes never go out of style really and again, mix up your metals and woods! Oversized lamps are huge (pun intended) this year. Think 1970s BIG! Actually, pick up a pair of '70s lamps at local thrift, antique stores or flea markets. These are statement pieces and show your guests that you aren't afraid of being bold. In this specific case, size does matter!
Art 
I realize art is subjective and everyone has their own and here is my only tip. Buy Original Art! It's not as expensive as you may think and we have a plethora of outlets in which to purchase. C&C Mercantile, Agora Borealis, Kings Antiques, Caboose Antiques, and monthly Downtown Art walks, just to name a few. We also have a very deep well of local talent and I'm always looking for folks to purchase from. Remember; It's always better to own a real "nobody" than a fake somebody! Tip: tie the colors of your art with room color, pillows or rug. 
Folks, these are just some tips to help you in your decision making for this year. If this is beyond your skillset, then, by all means, give us a call, but at least give it a try. Most items (aside from estate sales/antiques) can be returned if they don't work. Don't be afraid to try something new and don't make the mistake of repeating older styles/trends and regretting your decisions. Much like this year, hindsight is 20/20!