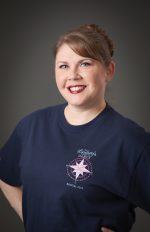 One hot Fall afternoon in the mid 1980s, a small but mighty 6-year-old twirled into her very first class at Miss Tommie's School of Dance. Her new leather ballet shoes softly padded on the cool linoleum floor in the open studio building. Within those walls, with the steady guidance of the loving, passionate, and patient Miss Tommie Church, Lindsey Williamson Butler got her first introduction to something special. A calling. A magical merging of beauty and power that somehow transcended the earthly bounds of physics and logic to create something graceful and wonderful: Dance.
At the time, Miss Tommie was the only dance teacher in Winnsboro, a city of about 5,000 and the seat of Franklin Parish in rural northeast Louisiana. She drove the 45 minutes from Monroe a few days per week to teach ballet, tap, and jazz. Word had spread quickly throughout the families with daughters in town, and by now the dance studio was thriving with students eager to learn from the young dance instructor.
It was apparent pretty early on that this whole dance thing was going to be a big deal for Lindsey in particular. When picked up after her very first class, she proclaimed that she'd like to be Miss Tommie when she grew up. While most kids regularly waffle on decisions willy nilly, Lindsey's choice to pursue dance never wavered. She couldn't get enough of it and the joy and energy it provided.
If you were to create a movie montage of the next few formative years of her life, it would be filled with action shots of leaping, tapping, 8 counts, black leotards, and pink tights, followed by lots of hard work, sweat, ponytails, practice, and dedication. As she grew into a high school student, she began taking additional classes and working as one of Miss Tommie's assistants. She also performed with her high school dance line at every football game, with practices every day after school in the Fall. Cue the pom poms, sequins, and marching band routines.
College-aged Lindsey didn't slow down for a minute. While pursuing a degree in elementary education at University of Louisiana at Monroe she continued working for Miss Tommie in the afternoons, making the same 45 minute drive from Monroe several days a week as her mentor. She also continued to take more and more advanced college level dance courses, toured with a performance dance group, and participated in dance competitions around the region.
After graduation, the full-time career began with Lindsey diving head first into the 2 dozen children assigned to her care as a first grade elementary school teacher back in Franklin Parish. While most people would consider one full-time job to be the most you can expect out of a person, she was thrilled to be able to keep on at Miss Tommie's in the afternoons when school let out. If you're still watching the movie montage, now is where you'll notice tote bags full of papers to grade, followed by late nights dancing, and early morning bus duty as an educator. Elementary school teachers are notoriously over-worked and under-appreciated, but that divide becomes even more obvious when the teacher is someone who cares so deeply about the students she takes on every year. While Lindsey kept on dancing in the afternoons and teaching during the day, she would earn the title of Teacher of the Year by the Franklin Parish School Board not once, but twice! She also managed to juggle the two jobs in addition to starting a family.
As Miss Tommie's 40th year of teaching dance in Winnsboro approached, Lindsey began taking on more responsibility at the studio and thrived in her role as Assistant Director. She acknowledged Miss Tommie as the ultimate mentor and friend, teaching her so much more than just dance. It was at the 2017 recital that Miss Tommie announced the following year Lindsey would be taking over the reins. Retirement was bittersweet, but the time had come and Miss Lindsey was ready.
After a year of conducting lessons in the original rented building, an opportunity to purchase her own place presented itself. With the help of the handiest husband ever, as well as the rest of her family and community, Lindsey managed to turn the most disgusting, run-down watering hole into the studio of her dreams. The exhausting montage now displays scenes of insulation, sheetrock, paint, and brand NEW clean linoleum all laid to her specifications.
This new normal of running her own dance studio while teaching first grade full-time was scheduled to continue for another five years until she could retire with the expected benefits from the school system. But this Fall when fresh-faced students file in to Gilbert Junior High School, Mrs. Butler will be absent. After a scheduling conflict at school arose this summer, she was able to weigh all of the options and knew it was time. It was a sign, and she followed it. She quit her day job to focus solely on Miss Lindsey's School of Dance. What a leap! Right now the montage wraps up in slow motion as everything becomes clear and the dancer defies gravity for just a moment longer than anyone could hope for.
With the full force of her passion and dedication, coupled with the perfect location, the possibilities are truly unlimited for this girl destined to dance. New and expanded classes, dance team summer camps, adult and kids trampoline fitness classes, movie nights and more are on the agenda for 2019. Lindsey recently announced "I am absolutely thrilled to be living out my dream of being a dance teacher and studio owner. I thank God for these blessings, and my family, friends, and community who have supported me all along. I thank you all for the opportunity to share my love of dance with your children, and I promise to give them my very best effort, advice, and guidance."
Contact lindseylbutler@bellsouth.net or (318) 267-6377 for more information about classes in Ballet, Tap, Tumbling, Jazz, Hip-Hop, Pointe, and Pre-Pointe for ages 2½ and up.