Content provided by Women's Business Enterprise National Council
Fast Penny Spirits Releases Their Italian-Style Amaro to Louisiana
Amaricano and Amaricano Bianca to restaurants and retailers across Louisiana. Based in Seattle and inspired by the founder's Italian heritage, the company is committed to stirring up change. The Italian-style, Pacific Northwest-influenced amari are crafted with distilled west coast grapes and over 45 organic, wild-crafted, and consciously sourced botanicals.  
Investing in female-led businesses, Fast Penny is looking to change the way we choose how we drink. With a mission is to produce the highest-quality, sustainable, and desirable Amari that infuse joy and empower community through consciously sourced ingredients from our region and around the world. Fast Penny Spirits commits 3% of bottle revenue to support women in business, our communities, and industry.
Fast Penny is also dedicated to sustainability whether it's from the recycled glass bottles we use with their Amaricano brand, reclaimed corks, supporting local and sustainable farming, eco-friendly packaging, daily decisions are made with sustainability in mind. They believe they can always improve in sustainability and will continue to look for more opportunities as we grow.
Fast Penny Spirits and Amaricano were born from Jamie Hunt, founder and CEO's, vision to start an Amaro company combined with her career in the global digital world. 
With grandparents who emigrated from Sicily, Jamie grew up embracing Italian culture and flavors from an early age. Building a company focused on creating a high-quality, complex but approachable American-made amaro was a natural fit. Being a Pacific Northwest native, Jamie also wanted to highlight the abundant organic and wild-crafted ingredients the region had to offer. Having recently been awarded a B Corporation certification is evidence of the successful implementation and practice of this mission.
Breaking down classic amari into the individual ingredients, Jamie made individual tinctures and then blended them in hundreds of combinations, trying and testing each blend before arriving at the final products. From this two-and-a-half year process emerged Amaricano and Amaricano Bianca. Both delightful to drink on their own as well as easily incorporated into cocktails.
Fast Penny Spirits was built to empower and celebrate the support of the community. Community is a force for change, giving the strength and motivation to make bold moves.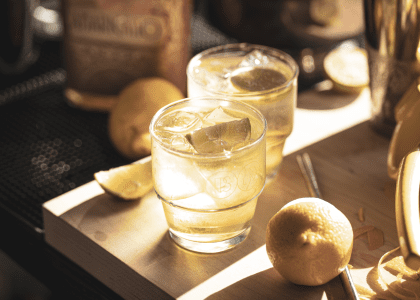 Fast Penny Spirits amari are luxurious and indulgently refined, balancing rich and herbaceous tones for a breathtakingly bold experience. Brian Fuller, Sales Manager at Vino Wholesale in Louisiana, was quickly drawn to a partnership with the amaro brand after seeing a post on social media. "I was immediately intrigued by the beautiful packaging from a friend's post. Once I tasted the two products, I knew we needed to bring them to Louisiana." 
This year, Amaricano and Amaricano Bianca both received gold medals from the American Distilling Institute's International Spirits Competition, adding on to their 2021 gold medal wins at the prestigious San Francisco World Spirits Competition and the Denver International Spirits Competition.
"It's been amazing bringing a little bit of the Pacific Northwest to different parts of the country," said Jamie Hunt, Founder and Chief Executive Officer. "With the state's appreciation for rich, European influence, partnering with Vino Wholesale to bring Amaricano and Amaricano Bianca to Louisiana made perfect sense. We're excited to get to know the community." 
Fast Penny Spirits amaro can be found at retailers, bars, and restaurants in California, Georgia, Louisiana, Michigan, Minnesota, Oregon, Tennessee, and Washington. The distillery also ships to over 30 states nationwide.