Photography by Victoria Arnold
Buffy Walker grew up in South Louisiana in an Italian, Catholic family who celebrated everything. Faith, family, and food were at the keystone of the Gonzales family and Buffy's childhood. At 18, she moved to Ruston as a graphic design major at Louisiana Tech University.  She immediately fell in love with Ruston and Louisiana Tech. Buffy has called Ruston home ever since. In undergrad, Buffy met the love of her life, Ruston boy Scott Walker.
The two were married in 1997 and have two sons, Gabriel and Collins.  Although her two boys had the option to go to a different university, the love for Tech runs deep in the Walker family, and both are current students at Tech. Upon graduation, Gabriel and Collins will be third-generation Tech graduates on Buffy's side of the family and fifth-generation on Scott's side. Ruston and Tech are incredibly special to the Walkers and they are genuinely grateful to the community that has loved and embraced them through generations.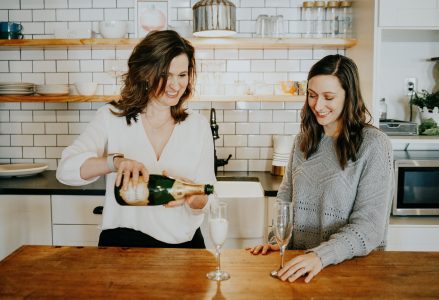 Buffy began teaching middle-school art at Cedar Creek in the fall of 1997. At the time Scott was also teaching and coaching for Cedar Creek.  Buffy remembers this chapter fondly as a newlywed, working with her husband and the Cedar Creek family. Buffy has served as an art teacher, cheerleading sponsor, and director of activities. She has planned and chaperoned countess class trips to Washington D.C., Chicago, New York, and South Louisiana, to name a few. During her time with Cedar Creek, she has worn many hats, but her favorite title is just "Mrs. Buffy" to the hundreds of students she has embraced over the years. Buffy says that the most important thing for her is to always be a "soft spot for her students to land." She certainly is that! With her warm spirit and an infectious smile, for 25 years, students have known they always have a listening ear and a cheerleader in Mrs. Buffy.
Buffy is gentle in nature yet fiercely creative. She can make something beautiful out of almost nothing. Buffy is known for her servant's heart, choosing to put others first, yet for years she had a dream of having her own space to create and to host. She originally wanted a smaller space for art classes and a studio. For years she prayed that God would open the right door for her vision to come to life. After having several possible locations not being the right fit, she began to feel discouraged. She remembers Scott reminding her that "God's timing is perfect and to have faith that it would happen." The moment she walked into the downtown loft, she said, "I knew it was the place I had been waiting for. It was perfect!"
Walker & Co is located at 109 West Mississippi in historic downtown Ruston.  It was the former location for the Lewis & Co home decor department (downstairs) and the Lewis business offices (upstairs).  Ironically, one of her first jobs while attending Tech was working at the Lewis gift shop located next door to Walker & Co. Buffy said, "Back in the day, you could walk through the building. I can still envision the arched doorway that stepped down into the gift shop.  While working at Lewis' I realized that Lewis' was known as the best place to shop for almost any occasion. It was the place where you feel like you belonged and were part of something special.  Customers were family and friends. It was the place to get the perfect gift, outfit, or accessory for your occasion.  What a special feeling it was to receive a beautifully wrapped gift from Lewis'.  The bow was a statement all on its own. At Walker & Co, we want to amplify that Lewis feeling of celebration.  We want it to be the place to gather with family and friends to celebrate each other. "
 The name of the Studio and the loft, Walker & Co, was inspired by the Lewis and Co name. Just like Lewis and Co, the business wants to be place where you feel at home while finding the perfect gift. Not only is the name Walker & Co symbolic, the logo featuring a three-point crown encompassing a heart is Buffy's reminder that she is the daughter of the King, Jesus Christ. The heart represents a commitment to loving and serving others, something she hopes and strives to do daily at Walker & Co.
The space is truly spectacular. With original historic features intact, Buffy has transformed the grand two-story building into an impeccably decorated, warm, inviting space, that quite frankly makes everyone want to grab a cup of coffee and stay awhile.  Walker & Co is host to art classes for all ages, birthday parties, girls nights out, paint parties, bridal, wedding, baby showers, holiday parties, pottery workshops, rehearsal dinners, and intimate weddings. Walker & Co will be hosting their first Bridal Fair in March, collaborating with other local vendors, and have plans for a " Mini-Mardi Gras" event giving folks the opportunity to safely celebrate the season of fun. She plans to team up with other small businesses and help them grow by hosting events of every kind. Buffy's excitement for the future of Walker & Co is contagious and is equally exciting for the City of Ruston by showcasing the best that Ruston has to offer… Faith, Family, Friends, and Food!