Maintaining the look and value of your home is important. Whether you're looking to sell this spring or want to enjoy your home for the next 30 years, Window Genie's exterior cleaning services are the perfect way to boost curb appeal! We can: 
 CLEAN YOUR WINDOWS
Windows are the eyes of your home.  It's hard to enjoy your home's view through a window covered in dirt. While clean windows LOOK good, it's also important to consider the long-term effects proper window maintenance can have on your home's look and feel. Regular cleanings are important because glass is a porous surface that when penetrated by dirt, sap, and dust, can develop cracks and irreversible stains or clouding. Maintenance will be cheaper than a replacement. Dirty, damaged windows can be a major red flag if you are trying to sell your home. You might be thinking, "I don't do windows." Cleaning your own windows is an incredibly time-consuming, difficult and potentially dangerous chore. Climbing up and down a ladder all day with bulky equipment that may yield a so-so streaky result isn't ideal. Hiring a local team of trained, insured professionals will free up time to focus on the rest of your curb appeal to-do list.
PRESSURE WASH YOUR SIDING, PATIO, DECK AND/OR DRIVEWAY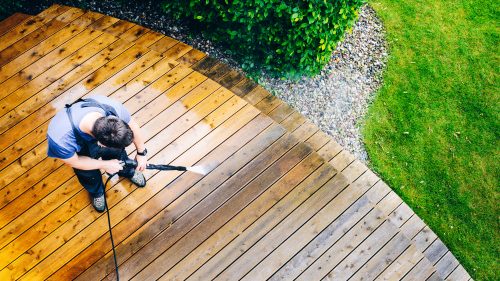 Taking care of your home's siding, deck, patio, and driveway is a great way to manage the look and the value of your home.  A dingy, dirty, cracked, moldy home is not appealing to potential buyers or neighbors. As with window cleaning, regular exterior cleaning keeps your home's vinyl, wood, concrete, and brick surfaces not only looking good but in great working condition. Allowing years of dirt, grease and grime to cake onto and penetrate these surfaces can lead to irreversible damage. If you are planning to sell your home, prospective home buyers WILL notice. You may be thinking you can handle these cleanings yourself. "Why hire a professional?" you might ask. The use of a pressure washer can be dangerous to the surfaces you are cleaning and to you. Many DIY enthusiasts will strip and dent their homes and decks this year with rental equipment in an attempt to go it alone and save money. Professional pressure washers are fully trained and equipped with the appropriate machines required for every job and every stain. Too much pressure or the wrong tools can cause damage, and too little pressure just makes everything wet, doing little to remove stains and dirt. Hiring a professional for your pressure washing service ensures a safe, thorough clean every time. 
CLEAN THOSE GUTTERS
Too many homeowners ignore their gutters until there is a problem. By the time you notice that your gutters need to be cleaned, the damage has already begun to set in. Often neglected, this "out of sight, out of mind" chore WILL rebel against you for ignoring it. When gutters are clogged, water finds the path of least resistance, which many times leads to irreversible damage when it seeps into the fascia board or foundation.  A rotten, moldy, cracked house is EXPENSIVE to fix. Louisiana has enough mosquitos already and standing water in packed gutters becomes an ideal breeding ground for them and other insects. Neglected gutters will begin to distance themselves, literally! Gutter nails that expand and contract with the weather will end up pulling your gutters away from the home and can fall off bringing down siding, shingles and landscaping with it. A simple gutter re-securing service tacked onto a professional gutter clean-out is a cheap and easy way to avoid costly repairs that NO potential buyer wants to inherit.
In addition to window cleaning, pressure washing and gutter cleaning, we also offer residential window tinting, roof washing, holiday light installation and more. 
Contact Eric at Window Genie of Shreveport today for a free estimate on all services. Don't forget to ask about special pricing for bundling services! Call 318-626-7667 or visit WindowGenie.com/Shreveport to learn more.