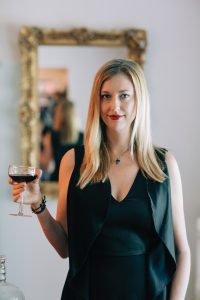 If you're thinking about doing a glam hostess with the mostess Halloween party, here's a step-by-step guide! 
Theme: Decide the type of Halloween party you want to have.  Do you want to go gory-slasher-flick style? Do you want to keep it kid friendly?  Do you want to do a vampire theme or a mad scientist theme? I decided to do a spooky glamorous theme. Is that a thing? I think so! I don't love the gory Halloween stuff but I love to create a creepy and spooky atmosphere.
Decorations: You could throw up a few fake spider webs, but to throw an epic party, you have to commit to the decor.  Once you've decided your theme, you can figure out which direction to take your decor. I put a sparkling spider web all over the console mirror.  I put out lots of gem-tone décor, including velvet pumpkins. I also used a lot of my antique silver pieces and didn't polish them for that extra "abandoned" look.
Lighting: We've said it once, we'll say it again. Lighting is one of the most important parts of the spooky factor.  Turn off all the overhead lights and light the room with colored lights and candles everywhere. Be careful with your candles and don't set your house on fire!  I found these cool candles that appear to be bleeding as they drip!
Music: You could put on a generic Halloween station, but do you really want to hear "Thriller" 14 times? (I kinda do.) I find it best to create a station by listening to it in the days before and training it to play the stuff I like for the mood I'm creating.
Food & Drinks: Dry Ice is key for any spooky drink. Handle it with gloves and tongs; it will "burn" you. Adding it to the punch bowl will give it the smoldering look and really take your tablescape to the next level.  We turned everyday party food into elevated Halloween magic just by putting a little creative touches on them. Like molding the cheese ball into a witch's hat and adding some dark balsamic and herbs to the olives.


Menu:

Witchy Cheese Board
Pumpkin Hummus
Smoky Pumpkin Chili
Poison Apple Cider
Black Widow Martini
A saucy Halloween playlist
Love Potion #9, By The Searchers
I Put A Spell On You, By Screamn' Jay Hawkins
Howlin' For You, By The Black Keys
Witchcraft, By Frank Sinatra
Black No. 1, By Type O Negative
Castin' My Spell, By Johnny Otis
What's A Girl To Do?, By Bat For Lashes
My Body's A Zombie For You, By Dead Man's Bones
Strange And Beautiful (I'll Put A Spell On You), By Acqualung
Sally's Song, By Catherine O'hara And Chris Boardman
Black Magic Woman, By Fleetwood Mac
She Blinded Me With Science, By Thomas Dolby
Love Song For A Vampire, By Annie Lennox
Touch-a, Touch-a, Touch Me, By Susan Sarandon
I'm Your Boogie Man, By Kc & The Sunshine Band
Lil' Devin, By The Cult
Abracadabra, By Steve Miller Band
Strange Brew, By Cream
Zombie Dance, By The Cramps
E.T., By Katy Perry
Little Ghost, By White Stripes
Disturbia, By Rihanna
Howl, By Florence & The Machine
Bad Things, By Jace Everett
She Wolf, By Shakira
Vampire, By John & Jehn
Witchy Woman, By Eagles
Gloomy Sunday, By Billie Holliday
Skeleton Song, By Kate Nash
Witch, By The Bird And The Bee
Monster, By Lady Gaga
SMOKY PUMPKIN CHILI
1 (2-3 pound) pork shoulder roast or butt
2 tablespoons smoked paprika
2 teaspoons chipotle chili powder
½ teaspoon cayenne pepper
1 (12 ounce) beer (I used pumpkin beer)
2 teaspoons cider vinegar
2 teaspoons Worcestershire
1 (28 ounce) can fired roasted crushed tomatoes
2 (6 ounce) cans tomato paste
4 cups fresh pumpkin diced (or 1 can pumpkin puree)*
1 (14 ounce) can black beans rinsed + drained (optional)
shredded sharp cheddar cheese sour cream or Greek yogurt and cilantro, for topping
CINNAMON SUGAR PUMPKIN SEEDS
2 tablespoons brown sugar
Add the pork to the bowl of a crockpot. Drizzle the honey over the pork and then sprinkle with chili powder, chipotle chili powder, cinnamon, garlic powder, onion powder, cayenne and season with ½ teaspoon salt. Add the bay leaves and then pour in the beer, cider vinegar, Worcestershire, fire roasted tomatoes and tomato paste. Add the cubed pumpkin and stir to combine.
Cover the crockpot and cook on low for 7-8 hours or on high for 4-6 hours (I recommend going low and slow).
Just before you are ready to shred the pork, make the pumpkin seeds. Preheat the oven to 350 degrees. In a heavy-bottomed medium skillet, add the butter and melt over medium heat until just browned. Butter will melt, foam, and froth, and then begin to brown along the bottom. Whisk the browned bits off of the bottom of the pan. Remove from the heat and stir in the pumpkin seeds, brown sugar, cinnamon and salt. Toss well and then spread the mixture out onto a parchment-lined baking sheet. Roast for 20-30 minutes, stirring every 10 minutes to make sure nothing is burning. Remove from the oven. Taste and season with salt if desired.
Remove the pork from the crockpot and let cool slightly. Lightly shred the pork with two forks or your hands and return the meat to the crockpot. Add the black beans. Toss well, cover and warm through. If the chili base is too thick for your liking, add a cup or so of chicken broth until your desired consistency is reached.
To serve, ladle the chili into bowls. Top with a dollop of Greek yogurt and shredded cheddar cheese. Sprinkle the pumpkin seeds over the chili.
THE WITCH'S CHEESE HAT
2 ounces cream cheese cold
8 ounces gorgonzola cheese crumbled
1 tablespoon fresh sage chopped
4 cloves roasted garlic optional
2 tablespoons fig preserves
1⁄3 cup roasted pistachios chopped
poppy seeds for coating the hat
pomegranate arils for the rim of the hat
Mix ingredients together using hands to really get it mixed. Mold in a ziplock or disposable piping bag so that the cheese can get the triangular shape, chill until firm. Garnish with seeds and arils.
OOZY FIG BAKED BRIE
¾ cup fig preserves
arils from one pomegranate
Place brie on a plate, spread preserves, microwave for 30-45 seconds until melted. Serve with crackers.
PUMPKIN HUMMUS
1 (15 ounce) can chickpeas, drained and rinsed
1 (15 ounce) can pumpkin puree
2 tablespoons extra virgin olive oil, plus more for serving
2 chipotle chilies in adobo
¼ teaspoon cayenne powder
1 teaspoon chili powder
kosher salt and pepper
Combine the chickpeas, pumpkin and olive oil in a food processor and puree until smooth. Finely chop the chipotle chilies and add to a bowl. Mix the chilies with the garlic, honey, cinnamon, cayenne, cumin, oregano, chili powder, and salt and pepper. Stir half chipotle mix into the hummus, and add the remaining to the top of the hummus. Drizzle with olive oil and sprinkle with pepitas seeds before serving. Serve with sweet potato chips, fig crackers or other foods for dipping.
MARINATED MOZZARELLA EYEBALLS
1 (8 ounce) jar green martini olives drained
2 sprigs fresh thyme + rosemary
2 tablespoons fresh sage chopped
salt + pepper to taste
1 tablespoon balsamic vinegar
pinch of crushed red pepper flakes
olive oil enough to cover the cheese
MARTINI
1½ ounces bourbon (or vodka works here too)
½ ounce raspberry liquor (Chambord)
1 teaspoon pure maple syrup, more or less to taste
bing cherries for serving
APPLE CIDER
2 cups freshly squeezed blood orange juice
1/2 cup freshly squeezed lemon juice
8 ounces vodka (optional)
8 ounces brandy (optional)
2 (12 ounces) bottles ginger beer
2 (12 ounce) bottles of sparkling blackberry soda
2 thinly sliced apples
blood orange slices for garnish
 In a large pitcher, combine the apple cider, orange juice, lemon juice, vodka, and brandy. Chill until ready to serve. When ready to serve, add the ginger beer, soda, pomegranate arils, and apple slices. Serve in punch glasses.