Clothing provided by Vertage Clothing and L.E. & Chalk
What began as a landmark hotel for the newly built Louisiana Downs Racetrack evolved into a hot spot for big name entertainers gracing LeBossier main stage.  Names like iconic Lena Horne, country singers Waylon Jennings, Glen Campbell and Mel Tillis, the effervescent Jerry Lee Lewis or the comedians Rodney Dangerfield and Redd Foxx all enjoyed this stage.  Perhaps others listened to the smooth beats from Buddy Rich or the Count Basie Orchestra's toe-tapping, big-band sound sailing through the air all the while surrounded by the splendor of LeBossier ballroom.
In a place where musical history is prevalent as well as appreciated thanks to the Shreveport/Bossier's musical roots, LeBossier has had its turn in the spotlight and should be appreciated as musical history for those who have graced the stage in the ballroom.  Travel through time by simply stepping into LeBossier ballroom with its seating arrangements in tiered boxes surrounding the stage – it's easy to become immersed in the big band era daydreaming of a time when ballgowns and black ties were standard evening wear.
As time passed, businesses boomed in Shreveport/Bossier City with other venues opening and eyes turning away from LeBossier.  Now, with new ownership, LeBossier is being resurrected, reconstructed, and restored to its former glory.
Wanting to recreate history, owner Dr. David Abdehou has created a hot spot for entertaining from intimate gatherings to large, lavish affairs.
Dr. Abdehou is man of many talents whose specialities in the medical field include taking care of the elderly as a passion.  His desire for no person to feel loneliness or fear as they age led him to create his own assisted living facility, the Chateaus at Montclair.  This project sparked his interest in construction, which propelled him to gain his contractor's license. In doing so, Dr. Abdehou was able to take on his latest project, preserving the heritage that is LeBossier. With his son Jordan by his side every step of the way, these two have turned a piece of Shreveport/Bossier history into a swanky new place for North Louisianians to gather in high style.
Beginning with the Atrium Lounge, guests can now enjoy a culinary experience by the water feature while listening to music from the gorgeous white baby grand piano. The owners are hoping Sunday jazz brunch in the Atrium becomes the new family tradition for generations to enjoy time and fellowship together.
The hotel itself is large enough for big events, with 200 rooms.  Being an event center, there are several spaces for large meetings with top-of-the-line technology available to assist presenters as well as several bars to mix and mingle after presentations are complete.
The 14,000-square-foot LeBossier ballroom whisks people to a time of old-fashioned romance. The team was able to salvage the imported Versace brocade wallpaper, and the detail-rich oriental pattern on the terraced  balcony seat railings is nothing short of stunning. Flanking either side of the stage are two of the largest televisions in Louisiana specially imported and installed for LeBossier at 12 by 8 feet, so even those in the VIP SkyBox have an up close and personal view of any act on the stage. Dinner theater is in the works with hopes of housing their own troupe at LeBossier. The new owners are eager to speak with people interested in joining their new team to create a special place for unique entertainment as a constant on their stage.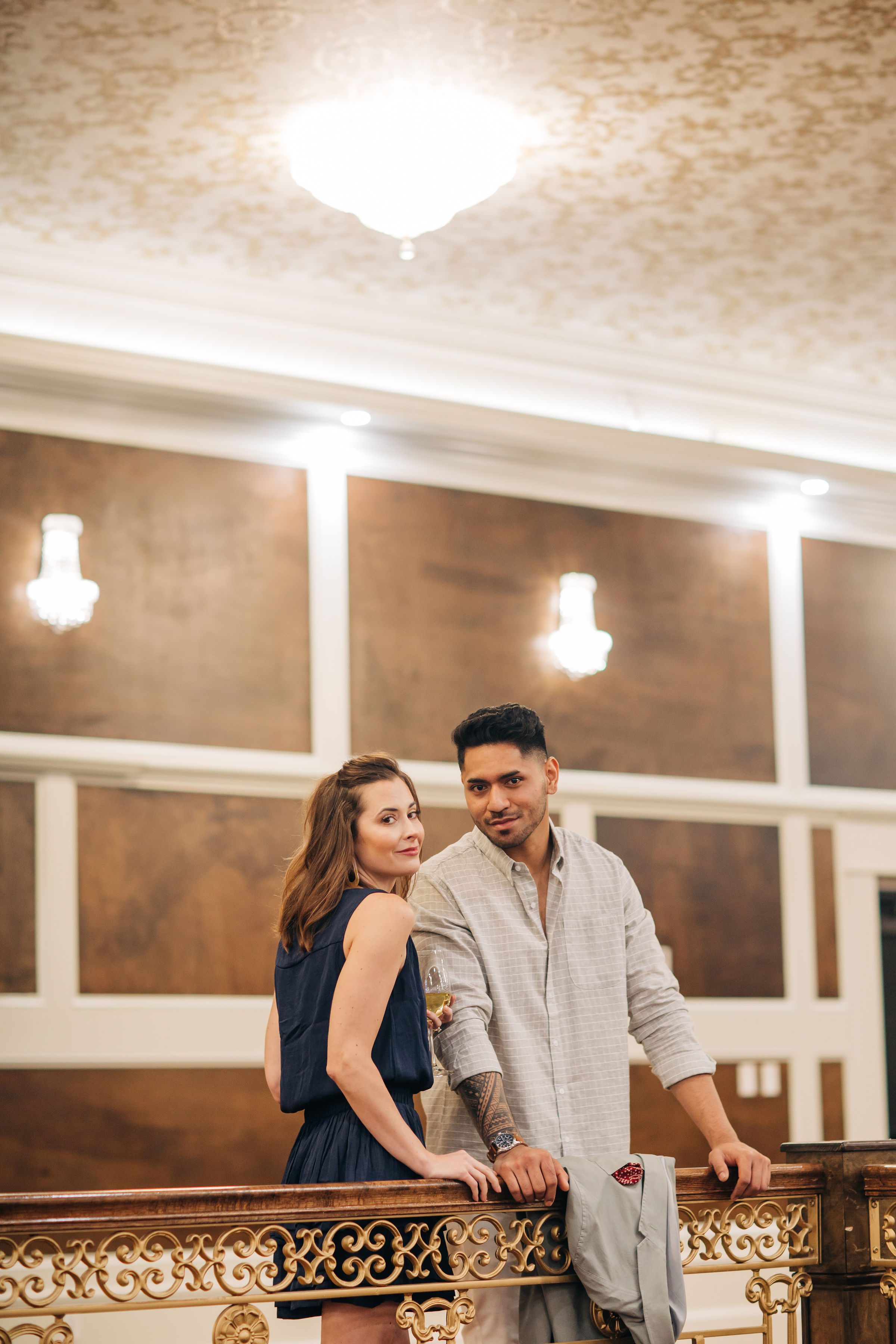 Across the hall, Three Dons offers upscale relaxing in a piano bar setting.  This Rat Pack-style bar will be feature some of the area's greatest musical talent. Signature drinks such as the Marilyn Monroe or Don Capone will be served while any of the Godfather movies will be playing on the screens. The constant flow of music and drinks will keep patrons coming back for more as there are numerous spaces for intimate conversation and a large dining table to enjoy what the chef is serving from the American cuisine with Italian flair menu.  Rich velvet seating, a fireplace, and international yet eclectic wine list will have this as the new hot spot in town as a place to gather.
Bringing back LeBossier's upscale ambiance of yesterday, David looks forward to generations growing together in this space from a princess tea party to the Sweet 16 and eventually the wedding ceremony and festivities. LeBossier is back and ready to create memories.