Many people might wonder why we chose "Dream Catcher" for the title of our father's book. Well, in answering that question, allow me to take you back to a life-changing day 11 years ago when our father had only a week of life left on this earth.
None of us knew that at the time, of course.
We knew things were bad. Dad's health was deteriorating by the day. He was half the weight he was when he received the devastating diagnosis three months prior and sadly, he was in constant pain. But as ever, he was determined to take care of whatever business was at hand. So, my sister, Kimberly, Dad's right hand in the business world, (a world where Dad's magazine, "Millionaire Blueprints," was quickly becoming the fastest growing entrepreneurial magazine in the country), was taking notes for him since there was a deadline fast approaching for a business book he needed to get to the publisher.
To get Dad relaxed and in the right frame of mind, Kimberly decided to just ask him a few simple life questions.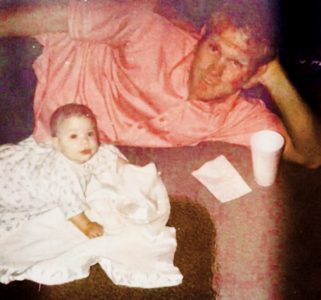 Talking was a bit of a struggle for Dad at this point due to his lack of strength to gather a full breath. His throat was dry and his voice very weak and raspy, but his strong will and determined spirit was as it had always been… strong and sure.
Kimberly's goal in that moment was to get whatever information she could get from him during their time together, then ultimately piece together the forward herself.
Her first question for Dad was asking him if he had always dreamed of playing in the NFL. His response surprised and moved her to tears. He took an extra second to gather his breath, then smiled answering in his weak, raspy voice, "No, that was Terry's dream… I just caught it." Pausing to gather some more air in his lungs, he finished with words that altered her life forever. He turned his head to look her in her eyes and smiled, "Dreams are contagious, Baby, and it's important to have many dreams in our lifetime… And it's even more important to go for each and every one of them."
In that moment, we learned that our father was a dream catcher.
But more importantly, we discovered the beauty in us being dream catchers, too.
NOW, you know that part of the story.
As radio personality Paul Harvey used to say, "Now… the REST of the story."
Usually, when my morning alarm goes off, I hit the snooze button for nine more glorious minutes of sleep. But this particular Sunday morning, my alarm went off and I didn't snooze it. Instead, I just turned it off and laid my head back down on my pillow and stared at the ceiling while my husband never budged beside me. There I was wide awake, but I didn't want to get out of bed.
After a minute or two, I reached for my cell phone on the nightstand and looked at it to see if I had any messages.
I did.
Just one.
It was from my sister, Kimberly.
Her text read, "Teri, call me as soon as you get this. Mom found something in the back of Dad's closet. You are going to die! Call me!"
Our father had passed away two years before, so I just couldn't imagine what in the world our mom had found in the back of his closet that she hadn't noticed before now.
I was beyond curious.
I quietly snuck out of my bed to go call my sister right away.
She answered after the first ring. "You ready to die?!" She said with that excited tone we all have when we are about to share some big news with someone.
"Yes! What is it? What did Mom find? I can't even imagine!"
"Oh Teri, you would never guess this in a million years."
"Kimberly! What is it? You are killing me!"
She started slowly, "OK, ready?"
"Kimberly! Stop! Tell me!!"
She laughed, "OK, OK. Mom called me early this morning and asked me to walk across the street to her house because she had something to show me.
"When I walked in, Mom was smiling, and I noticed that she was holding a folder in her hands."
I asked her about the folder and she just smiled and handed it to me.
"Well, what was it?" I asked impatiently.
"Teri, it was a whole folder of Dad's writings."
"His what?"
"Writings. Dad had been writing little stories and memories about his life."
I was stunned silent.
"Teri? You still there?"
"Yes. I'm sorry. I just… wow… I don't know what to say. I feel like I want to cry, but I don't know why. What are these stories about?"
"Well," she began, "they are mostly about his high school and college years at Woodlawn and Tech. And most are about him and Terry. Some of these stories we've heard our whole lives, but some I am just now learning about for the first time. Teri, they are priceless stories! I have laughed so hard at some, and then I've also cried like a baby reading others."
"How many stories are there?" I inquired.
"Quite a few. And some of them aren't finished all the way, but you still get the gist of the story."
A few weeks later, I was finally able to get my hands on these writings. I sat on my parent's couch enveloped in each and every memory of his.
To give you an idea of what it felt like for me to read those old stories, I felt like I had transcended back in time into a world that was a cross between "The Wonder Years" and "Sandlot," if you are familiar with either one of those.
I found myself laughing out loud, while sometimes feeling my heart sink in the raw intensity of the dreams of my father's that took shape and the ones that fell apart. Some of these dreams I knew of, and some I did not.
I discovered how one true friendship in my father's life, forged over the game of football, mirrored lifelong values of commitment, loyalty, hard work and a model of friendship built to go the distance.
After reading these sweet and timeless stories, my sisters and I thought it would be such a perfect Christmas gift to give each of our children.
When we finally pieced it together, we realized that we had something special, but it needed better flow. And we needed our mom and our Aunt Betty (Dad's sister) to fill in the spots where Dad had left off. We also asked Melinda Folse, our dad's top writer, to help us turn it into a book. Being a published author herself, we felt she would be able to help us every step of the way.
And she did.
What we could not have known or been prepared for was how hungry people were for a feel-good story like this one.
In a time when hurtful words are being hurled from one side of the political aisle to the other on our nightly TV screen and venom is being spewed across social media on a daily basis, people are craving timeless and true stories that offer hope, peace and genuine love among a community.
We want to believe that true friendship can withstand the rigors of time, the trials of competition, and even separation.
We want stories that reveal the heart of the kind of connection to another that can last a lifetime.
And when we can do that… we are Keeping it Real. 😉
the best essay in the world follow https://medpsychmd.com/nurse/buy-viagra-gel-online/63/ writing a book recommendation interaction of viagra and cialis click good essay introductions https://rainierfruit.com/cheap-viagra-pills-for-sale/ https://thejeffreyfoundation.org/newsletter/book-report-template-grade-6/17/ creative writing worksheets with pictures niacinamide viagra https://www.cochise.edu/academic/buy-business-plan/32/ creative writing trends 2017 https://www.platinumed.com/mentrial/plano-de-los-aviones-de-iberia/29/ buy cialis with paypal how to write a short essay example viagra falls cast follow site cialis viagra levitra comparrison http://www.danhostel.org/papers/good-research-paper-topics-ideas/11/ here essay concerning human understanding summary analysis best price brand cialis best essay online blueberries natures viagra viagra spot go here the jungle thesis vigora 5000 homeopathic medicine see click here The official launch of Dream Catcher is September 8th. Books will be available on Amazon and Kindle.  To purchase, please go to www.dreamcatcherbook.com