Get ready to party with a purpose at the American Cancer Society White Out Cancer Gala to be held on August 25, 2018 from 6:00 p.m.-10:30 p.m. at the East Ridge Country Club located at 1000 Stewart Drive in Shreveport. The fun-filled evening will include live music and dancing, gourmet cuisine and cocktails, and fabulous live and silent auction items.  The captivating band Windstorm will be rocking the stage as this year's headline entertainment.
"We're really excited about how things are coming together," said Danielle Cobb, Senior Community Development Manager for the American Cancer Society of Northwest Louisiana. "This year's White Out Cancer Gala will have incredible musical entertainment, mouthwatering food, some amazing auction items you won't want to miss, and so much more – all in support of the extraordinary mission of the American Cancer Society."
Every dollar raised at White Out Cancer Gala allows the American Cancer Society to help people facing a cancer diagnosis today, educate people about how to reduce their risk for cancer or detect it early when it's the easiest to treat, and fund cancer research that will help protect future generations.
In addition to live music and dancing, activities include a heads-and-tails raffle, live and silent auctions with items like jewelry, trips, art and much more; along with a delicious dinner, featuring cuisine from Chef Eddie and the staff at East Ridge Country Club.
Each year, more than 300 guests attend the annual White Out Cancer Gala. In 2017, thanks to events like this, the American Cancer Society provided 3,124 free services to cancer patients in the Shreveport/Bossier area.
For more information on White Out Cancer Gala, for sponsorship opportunities, or if you would like to be placed on the mailing list, please contact Danielle Cobb at (318) 663-4489. 
About the American Cancer Society
Together, we're saving lives, celebrating lives, and leading the fight for a world without cancer. There's never been a better time to invest in that vision. With our supporters, we're making important contributions that have led to significant progress against cancer. Prevention efforts, early detection, and better treatments have resulted in a 25 percent decline in cancer mortality rates since 1991, avoiding 2.1 million cancer deaths nationwide.
In 2017, the White Out Cancer Gala committee recognized distinguished individuals from the community as "Champions of Hope." These individuals were nominated among their peers and each committed to serving as an American Cancer Society advocate. At the American Cancer Society, we're on a mission to free the world from cancer. Until we do, we'll be funding and conducting research, sharing expert information, supporting patients, and spreading the word about prevention. All so you can live longer — and better. In Northwest Louisiana alone, we provide over 3000 services to patients and families each year.
To continue fulfilling our mission, we are grateful to have community partners committed with support. We hope you will choose to partner with us through this year's White Out Cancer Gala.
Dr. Heather Bracey
Dr. Heather Bracey is a Radiologist with the Red River Consultants group located in Shreveport. Dr. Bracey is a 3rd generation Shreveport resident and a graduate of C.E. Byrd High School. She was awarded a Bachelor's in Medicine and Science in 1997 from LSUS and then earned her Doctorate in Medicine from LSU Medical School in Shreveport in 2000.  Following a one-year internship in Internal Medicine at LSU Health Sciences Center in Shreveport, she completed a four-year Diagnostic Radiology residency at the University of Mississippi Medical Center in Jackson, MS. While completing her training in radiology, Dr. Bracey became interested in and decided to pursue a fellowship (a special year of training after residency) in Breast Imaging. She joined Red River Consultants in January of 2015 as a Breast Imaging Specialist. Dr. Bracey said, "I spend my days working with a fabulous group of people who have dedicated their lives to finding and treating breast cancer. I could not do what I do without all of those people." Dr. Bracey has been married to Dr. Paul Bracey for 18 years and is the proud mother of four children, Ethan, Emily, Noah and Nate. According to Dr. Bracey, "They keep me busy when I am not at work. When there is a rare moment to myself, I love to knit, garden, and read."
Daphne Lewis Terzia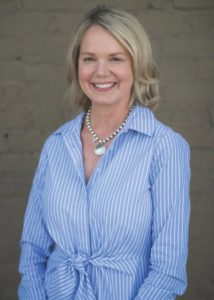 Daphne Terzia is a part-time Registered Nurse at Pediatric Surgical Associates in Shreveport. She is a wife, a mother and new mother-in-law. In the spring of 2016, she was touched by cancer. Terzia received a phone call that her latest mammogram had some irregularities and was told that she needed to have a breast biopsy. She was diagnosed with breast cancer and needed to make some big decisions. Terzia says, "Needless to say, my whole world came to a complete stop. I am very fortunate to have had some great resources to turn to in my decision-making process, and after careful and prayerful consideration, I chose to have a mastectomy." Terzia says her teams of doctors, including Dr. Julie Mook Broadwell, Dr. Paul M. Davis and the late Dr. Chad Hargon, were fantastic. They walked her through each step, before, during and after. All of her questions were answered in detail. Terzia says, "They are special to me and are still a big part of my recovery. After all the emotional ups and downs during the process with pain, waiting on pathology results, the 'what ifs,' I was still able to realize there was/is a silver lining to all of this.
God put so many angels in my life. From the nurses holding my hands to women I met in the doctors waiting area that were going through the same things as me.  My sweet co-workers sent me off to treatment with a girls night out. My dear, precious sisters who washed and styled my hair as we laughed and cried together; nieces and nephews visiting with my favorite yogurt, dear friends bringing me flowers, dinner and holy communion. And my biggest cheerleader, my husband Ted, along with my children's, kindness and daily support. They are my heart, they are my silver lining."
Through all of this, Terzia has reaffirmed, "Cancer is an awful disease, but you don't have to let it rule. It made me realize how many wonderful organizations there are, like the American Cancer Society to become involved with. They help so many people. I've only just begun this new journey in my life and whatever I can do to help, I will."
Sue Crow
Sue Crow is an Registered Nurse at the LSU Health Shreveport Feist-Weiller Cancer Center. She has lived in Shreveport for 55 years and is married to Donald Crow. She is the proud mother of two dogs and four cats. Crow graduated from Northwestern State University with a Bachelor of Science in Nursing in 1965. She received her Master's in Nursing from Northwestern State University in 1980.  Crow has served as an instructor of Clinical Nursing, Instructor for the Department of Medical Administration, an Assistant Professor in the Department of Medicine, and a Clinical Associate Professor of Medicine. Crow has published 130 articles relating to prevention of infection in hospitals in peered reviewed medical literature.
In her spare time, Crow enjoys participating in the Northwest Louisiana Master Gardeners' Club, the Ark-La-Tex Herb Society, and the Shreveport Native Plant Society. From 2003-2008, Crow served as the Nurse Coordinator for the Department of Medicine at the LSU Health Shreveport School of Medicine. Currently, Mrs. Crow serves as a Patient Advocate for the Feist-Weiller Cancer Center. She works with patients throughout their cancer process from their initial diagnosis to teaching them ways to relieve side effects of therapy. Crow has written a smoothie cookbook for her cancer patients, incorporates integrative medicine into patient therapy and assistance with nutrition, and serves as a mentor through each patient's cancer journey.