Mary Ann Elston – making your design dreams a reality
Mary Ann Elston's search for her dream kitchen became an unexpected path to her dream career in 2001 when she and her husband, Terry, a custom homebuilder, were building their home. They searched diligently for high-end, custom products for their own kitchen and bathrooms, and were unable to find what they wanted locally. Mary Ann then realized the need in North Louisiana for a locally owned, custom, home design firm that specialized in top-quality products and unique designs. Her dream came to life when she opened the first Kitchen and Bath Cottage, now in a new and delightfully custom showroom, Mary Ann is ready to help bring everyone's dream kitchens and bathrooms to life.
What are some of Mary Ann's personal favorites?
She carries several lines of fabulous custom cabinetry lines including, Wood-Mode, Brookhaven, Bentwood & Kitchen Craft.
She has particularly fallen in love with Wood-Mode cabinetry because of its beauty and lasting finishes, as well as the furniture quality of the cabinetry, along with a lifetime warranty.
"Top of the line" is not taken lightly with the Elstons'. If you only want the best of the best- Mary Ann has you covered.
Appliance lines include high quality and innovative brands such as Wolf, Sub-Zero, LaCornue, Miele, Thermador, Bosch, Fisher & Paykel, Scotsman, Hoshizaki, and Kitchen-Aid.
Kitchen & Bath Cottage also carries outdoor appliance brands: EVO, Fire Magic, RCS and DCS grills in addition to stainless steel Danver cabinetry, which all work great when designing and building the perfect outdoor living space and kitchen.
Seeing the need in Shreveport for specialty tiles like Walker-Zanger and Artistic Tile, the decision was made to add a tile showroom and display a wide selection. As we planned our new location, we made the decision to become an exclusive dealer of Walker Zanger, Artistic Tile and New Ravenna.
Kitchen & Bath Cottage is now a showroom where designers, builders and architects bring clients to select tile instead of having to plan trips out of town. If you want one of a kind, stunning tile work, check out WalkerZanger. It is gorgeous!
Mary Ann's team can help coordinate and get most of the items needed in a construction project, offering the onestop service that most home owners, builders and architects are seeking. Easy and fabulous!
The designers at The Cottage are seeing a direct move in the of direction of a simple, light and airy feel in new kitchen design. They can help you achieve this look through neutral color palettes and clean, elegant lines. They feel it has something to do with the desire to un-clutter and simplify the hectic lifestyle everyone seems to live these days, as clients want their homes to be calm and soothing. Think spas and high-end hotel décor! Greater attention is now being paid to details and the quality of materials, such as a unique slab of quartzite on the island or hardware that looks more like jewelry.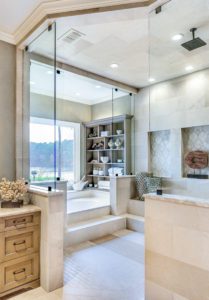 The business also expanded as a Marvin Windows and Door dealer. According to Mary Ann "That was the easiest decision we ever made, as Marvin's company mission lined up perfectly with the Cottages."
Solatube Daylighting was added to the product mix when Mary Ann was looking for a way to bring natural light into areas lacking windows. Solatube was the perfect solution and is one of the things clients come back frequently to add another one in their home after experiencing the change and impact of additional daylight within an enclosed space.
Mary Ann is so appreciative of all her clients for choosing to visit her showroom and choosing Kitchen and Bath Cottage for their home construction and remodeling needs. It makes them happy that people can get everything they need to make their dream home a reality right here in Shreveport. They once had to travel to larger cities to find the best of the best, but now this Shreveport lady has made these products available here at home so you can make your dream home a reality. Mary Ann and her team truly consider their clientele to be our extended family. They work so closely to build the spaces they call home. Mary Ann Elston dreams become a reality each time she is able to make her dear clients dream a reality as well.