Fashion forward women don't need to give up their style when they become pregnant! Now that spring is here, you may find it difficult to style your blossoming baby bump. Nо matter where уоu buy уоur maternity clothes, be it designer wear or otherwise, уоu have to consider certain factors before уоu decide to buy уоur clothes. Take a look at some of our Do's and Don'ts to rocking your bump this season and also some superb pieces that will look great in your capsule wardrobe!
DO aim to have at least 10 basic items of clothing in your perfect pregnancy wardrobe. Then you can mix and match pieces to create different outfits, from day to night, jazzed up with various accessories.
DO choose two different neutral shades for the core of your wardrobe. Fitted trousers, skirts and dresses in black and dark grey are perfect for the office (depending on where you work that is!). Add splashes of color with tunics, camisoles and accessories to add glitz to your outfit.
DON'T buy your normal clothes in larger sizes. By doing this, the clothes will make you look bigger, and they will not fit properly. There are so many affordable maternity clothes out there; invest in some key pieces that fit well and give you a flattering shape.
DON'T break the bank! – Remember you're only pregnant for nine months. Just select your 10 core pieces, then glam them up by adding gorgeous accessories like scarves, bags, jewelry and shoes.

The Maternity Jeans
Jeans are always a good idea! They are a wardrobe staple and they go with anything. They can be worn to go out in the evening or more casually during the day. Darker colors are really slimming. If you opt for a bootcut or a straight leg – this will give balance to your beautiful silhouette.
The Dress
Choose a colorful or striped print to make yourself feel bright and breezy this spring. We added a basic white tee for a more casual daytime look. For a more formal look, try adding a blazer for a more sophisticated feel!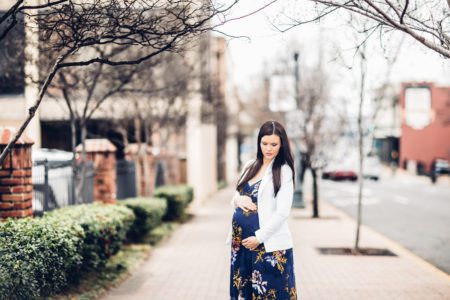 The Shirt
Make sure to invest in a couple of good quality cotton t-shirts. They go with anything, from jeans to shorts (for the warmer weather!).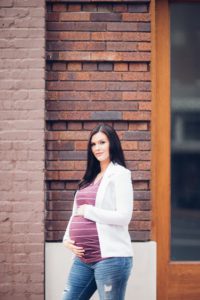 The Skirt
A flattering long skirt will give you a good shape, while also being comfortable. Bright colors or simple stripes will enhance your figure.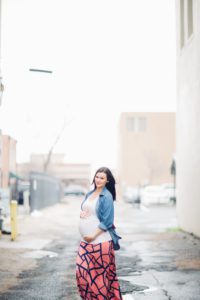 The Tunic
A tunic can add color or a fresh print to your capsule wardrobe. Light florals worn with jeans and flats or pixie boots can be a comfortable but casual look.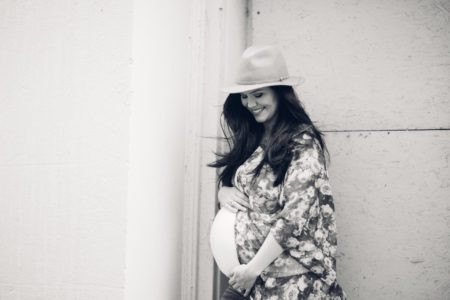 The Vest
Maternity vests are an essential for your capsule wardrobe during pregnancy. They are perfect for layering. Hormonal changes will mean that you feel the heat more when you're pregnant, so wearing a vest is perfect when you have to peel off those extra layers!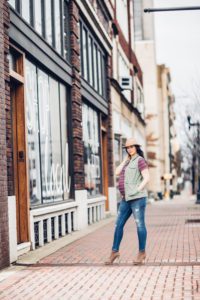 The Blazer
Everyday blazers are a great essential to have in your capsule wardrobe! From work to evening it is a great way to change your look from casual and fun to professional and classy.