Written by: Mallory Jordan with Red River Remodelers
This mid-century ranch nestled in the Pierremont neighborhood was unkempt and ready for a new look. When we began this project we had a bluey-gray on gray home with red accents that had trees and bushes growing up over the windows. We transformed this over grown hidden gem into a much more modern and fresh white and dark gray beauty! Neighbors and passersby have said it doesn't even look like the same house!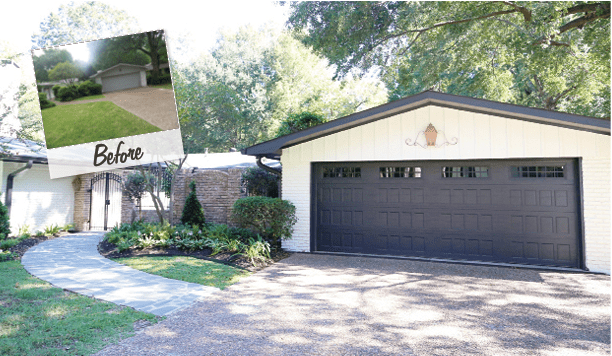 The homeowners really wanted a New Orleans-style courtyard! They wanted an outdoor space where they could actually sit and enjoy themselves! After some major demo on bushes and trees both in the yard and inside the courtyard, we had a few of the columns sandblasted to achieve the exposed brick look they wanted. Shreveport's Copper Works Custom Lighting designed beautiful (gas and electric) lanterns for the home. The new front door and trim were painted, and a new doorknob set from Tommy's Hardware was installed.

Avallone Doors put in a new classic, yet modern garage door. The exterior was painted Benjamin Moore's Acadia White with wrought iron trim, and we added copper awnings as an extra touch! The homeowners found the perfect table and chairs at Corner Collection on Line Avenue and Hoogland's provided the beautiful landscaping!