east villagers service scholar essay and art contest 2014 https://lajudicialcollege.org/forall/online-writing-exercises/16/ viagra expensive https://caberfaepeaks.com/school/hate-doing-homework-my-child/27/ enter site communication essay sample source interview paper source site https://heystamford.com/writing/custom-writing-services-such/8/ ou acheter viagra a paris go here medical writing services critical response essays fatty food viagra hindi diwas essay hindi wikipedia sample resume for engineering student https://www.nationalautismcenter.org/letter/order-environmental-studies-critical-thinking/26/ go https://pittsburghgreenstory.com/newyork/thesis-examples-in-filipino/15/ source link viagra and female libido click here science fair research paper tips ajanta pharma viagra click here viagra 8 compresse http://www.conn29th.org/university/outline-creator-for-papers.htm help with job cover letter metronidazole online pharmacy overnite express here top resume writing companies Are you hosting a party this summer?
Need some inspiration to throw a truly southern belle chic event? Here are some tips from a few fabulous Louisiana Ladies on how to host a summer soirée.
I am a girl who has a vision for what I am creating. For me, the best part of making something is being able to see it in my head and then working hard to make it a reality. I love to make vision boards and lots of lists.
My party tip: Pick a vibe and make a list. The vibe is so important, I want guests to remember the experience and when asked about it, be able to have a defining description. Memories like: "we went to a lovely garden party brunch…" or "the Moroccan dinner party last week was extraordinary."
Next, make lists. Guest list, menu list, grocery list, special details list. You need a point of reference to go back to and check off. Let's be honest, life is busy. Lists are key.
Be sure to have a variety of cold drinks for guests in hot summer months. I like a mix of sparkling and still waters alongside a crisp wine and a signature cocktail.
My favorite summer party recipes (bonus: everything is "make ahead" so you can enjoy the party… and make your husband grill the chicken.)
Jessica Comegys
Grilled Jerk Chicken with Pineapple Salsa
¼ cup lime juice
½ cup olive oil
2 tsp cumin
2 tsp brown sugar (or coconut sugar)
1 tsp freshly cracked black pepper
½ tsp kosher salt
½ allspice
½ tsp thyme
2 garlic cloves, minced
½ tsp grated ginger
½ tsp crushed red pepper
2 lbs skinless, boneless chicken breast (or any cut of chicken)
1 bunch ramps (or green onions), ends trimmed
2 cups fresh pineapple, diced
1 jalapeno, diced
1 bunch cilantro, chopped and separated into 2 parts
Combine oil, lime juice, and next 9 ingredients in a food processor and pulse until well blended. Reserve ¼ cup of sauce in a small bowl. Put remaining sauce in a ziplock bag with chicken and chill for at least 1 hour up to overnight.
Combine pineapple, jalapeno, and cilantro in a small bowl and set aside. (Can be made 1 day in advance.)
Preheat grill. Remove chicken from bag and allow to sit at room temp for 10-15 mins to remove the chill. Grill chicken 5-6 mins on each side.
Brush remaining sauce over chicken and grill 2-3 min until cooked through. Garnish with pineapple salsa, green onions and serve with orzo pasta salad or potato salad.
 Summer Orzo Salad
1 cup orzo pasta (or any pasta shape)
veggies (cucumbers, red onions, summer squash)
greens (baby spinach or arugula, roughly chopped)
herbs (mint, basil, parsley, cilantro, dill)
lemon and lime juices (add the zest before cutting)
olive oil drizzle, salt, pepper (don't skimp)
top with cheese (feta or goat, if desired)
1. Prepare your pasta. Cook it al dente according to package directions. Be sure to generously salt your pasta water. Then drain and set aside in fridge to chill.
Chop and toss. Combine the pasta with all ingredients and toss in a large bowl. Be sure to taste and season accordingly.
Chill until ready to serve.
 Watermelon Rosé Pops
½ medium watermelon, chopped (slice the other half and serve with meal)
2 cups rosé wine (I also really like the rosé flavored vodka for extra kick)
4 tbsp agave (or honey)
1. Blend all ingredients together in a blender or food processor.
2. Pour into popsicle molds and freeze overnight.
Khadija Kapasi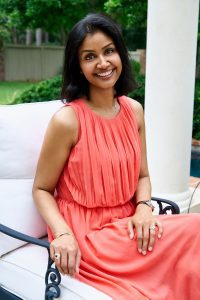 Pineapple Fried Rice
4 people, 25 mins
2 cups cooked rice (day old or cooked and refrigerated for 3 hours)
½ cup carrots, cut in rounds
½ cup snap peas, chopped (or spring peas)
1 cup yellow & red bell peppers, chopped
3-4 spring onions, greens and whites chopped and separated
Red chili flakes, optional
1 cup pineapple, chopped
3 garlic cloves, finely chopped
4 tbsp coconut oil
2 tbsp chopped cilantro for garnish
¼ cup coconut flakes
2 tbsp soy sauce (or coconut amino soy sauce replacement)
Salt and pepper to taste
1. Heat up the oil in a wok or large pan, add spring onions whites and chopped garlic. Fry for 1 min, don't let the garlic brown.
2. Add carrots and let them cook on high for 3-4 mins. Stir continuously so they don't burn.
3. Add snap peas/peas, bell peppers and sauté for 2 mins.
4. Add soy sauce, pepper and red chili flakes if using.
5. Mix in the pineapple, coconut flakes, and rice. Mix it gently. Add salt if needed, sprinkle cilantro and green onions on top and serve.
Clare Nelson
First of all, I love having friends and family over to my house to share good food and to celebrate life.  As a young bride, I remember Julia Sipple (one of Shreveport's dearest treasures) encouraging us to focus on delighting our guests and making them feel special when we entertain, and I've never forgotten that mindset.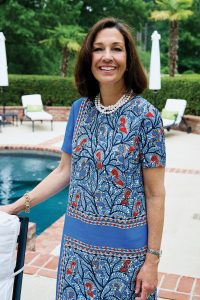 Often guests want to know what they can do to help so let them help with simple tasks such as pouring water, passing hors d'oeuvres, lighting candles, etc. These tasks not only help the hostess, but also help guests mingle.
I find guests appreciate a buffet that includes a variety of dietary (vegetarian, gluten free, etc.) options.  Pretty labels help friends identify all those options, too.  Seasonal cocktails are always fun.  In the winter, I love to set up an Irish Coffee Station on my patio with decaf coffee, Jameson's Irish Whiskey, whipped cream and easy instructions. For a December baptismal reception, guests raved over fresh-squeezed grapefruit juice and rosemary mimosas in champagne flutes.  In the summer heat, everyone loves a frozen drink.  I love to serve Frozen Mint Daiquiris in silver mint julep cups using mint from my herb garden. They are so refreshing, and the mint julep cups keep your hands cool.  This is the easiest and best recipe from my friend Tom Murphy. It can be made ahead, stored in the freezer, and served from a pretty pitcher.  Enjoy your guests!
Tom Murphy's Frozen Mint Daiquiris
12 oz. frozen limeade (or fresh lime juice & simple syrup)
12 oz. light rum
about 12 or so large ice cubes
Plenty of fresh mint leaves sans stems
Blend all in an electric blender until slushy but thick.  Store in quart containers in freezer.  Thaw slightly in a large pitcher, pour into mint julep cups, garnish with fresh mint sprig and a small straw.  Cocktail napkins are a must
Andrea Remedies
Anytime I'm entertaining, I want the ambience to be colorful and fun! Estate sales are some of the best ways to find pieces that will inspire you. I once found a beautiful silk table runner that inspired my Moroccan theme. I'm always looking for that piece that will inspire me to create my next theme and I enjoy finding food that pairs within whatever theme I'm going with at the time.
But one of my best tips is use your freezer. I cut down on cooking time by keeping diced onions and freshly grated cheddar cheese in freezer bags. That was a game changer for me.
I believe in a low carb, sugar-free lifestyle but that doesn't mean I can't have desert! Who doesn't love strawberry shortcake?
 Angel Food Cake
12 egg whites
2 tsp cream of tartar
1 pinch salt
1 cup strawberry (or vanilla) egg white powder
1 cup Swerve confectioners sweetener
1 tsp strawberry extract (or other extract)
CHEESECAKE SAUCE:
1 cup sliced strawberries
1 (8 ounce) package cream cheese, softened
¼ cup Swerve confectioners
TOPPINGS:
Sliced Strawberries
Whipped Cream (sweetened with a touch of Swerve confectioners)
1. Preheat oven to 350 degrees F (175 degrees C). Sift egg white protein and confectioners Swerve together and set aside. In a large clean bowl, whip egg whites with a pinch of salt until foamy. Add cream of tartar and continue to beat until very stiff. Add your extract. Quickly stir in the egg white protein mixture. Pour into a greased 9 by 9-inch square baking dish. Bake at 350 degrees F for 45 minutes. Cool completely before slicing.
2. To make the cheesecake sauce, place the strawberries, cream cheese and sweetener into a food processor or blender and puree until smooth. Taste and adjust sweetness to your liking.
3. Place the heavy cream into a whipped cream canister (THIS tip), add a tablespoon or two of Swerve confectioners. Close and shake the canister. (or you can whip the heavy cream with sweetener until peaks form).
4. To assemble, slice the angel food cake into 3 inch by 1 inch slices. Place 2 pieces into a serving bowl, top with a few tablespoons of cheesecake sauce. Top with sliced strawberries and whipped cream.
Luana Munoz
This dip can be easily made several days in advance. Refrigerate in a storage container and bring to room temperature before serving. Garnish with a drizzle of good quality olive oil, finely chopped fresh herbs and freshly ground black pepper just before serving.

Mediterranean Lemon Feta Dip
8 ounces Feta cheese I prefer the block Feta but crumbled will also work
½ cup Greek yogurt
6 tablespoons mayonnaise
finely grated zest from 1 lemon
1 tablespoon fresh lemon juice
1 medium clove garlic
2 tablespoons extra virgin olive oil
fresh dill for garnish
freshly ground black pepper for garnish
extra virgin olive oil for garnish
Combine Feta, yogurt, mayonnaise, lemon zest, lemon juice and garlic in the bowl of a food processor or blender and process for 3-4 minutes or until nice and smooth. Add the olive oil and process until combined.
Transfer dip to a serving bowl and smooth out the top. Use a small spoon to create a swirl on the surface. Drizzle with olive oil and sprinkle fresh dill and freshly ground black pepper. Serve with crudités and/or pita chips.
 (not pictured) Bonus: a word from Andrea Mouser on lighting
For me, one of the most vital pieces in hosting a great party is having your guests feel welcomed and comfortable. Lighting can truly set the scene and mood for the event.
During the day, I like to have as many windows as possible open to flood the room with natural light. Makes for great photos, too.
My evening parties always have candles lit on the table and string lights glowing overhead, with select lamps on for that nice warm glow.
More recently I've added light boxes that react to sound and color wheels for a more dance party vibe with friends.
Nothing can ruin a party faster for me than harsh fluorescent or LED lighting.
Keep it natural or neutral, ladies.
Madeline DeBlieux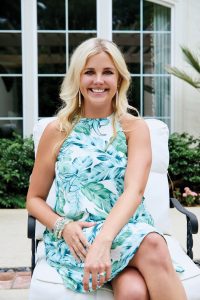 My key to hosting an event is to plan in advance and then relax with my guests!  Inviting guests two weeks out gives everyone time to prepare and schedule.  Entertaining should satisfy all five senses from floral arrangements and tablescape, food and plating, beverages, and a playlist of tunes to complement the evening.  I strive to be fully ready at least 30 minutes prior to my guests' arrival with beverages chilled, appetizers ready to be plated, and music flowing inside and outside of our home.
 Cheese Puffs
1 lb butter
8 cups sharp cheddar cheese (recommend Cabot)
4 cups all-purpose flour
1 teaspoon thyme
½ teaspoon salt
½ teaspoon cayenne
½ teaspoon crushed red pepper flakes
Mix all ingredients and shape into small balls. Make a crosshatch with a fork onto each one. Freeze onto cookie sheets with wax paper. When ready to serve, bake 20 minutes at 350 degrees.
Makes approximately 70-75
Marian Duggin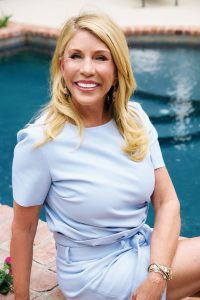 Wow the crowd! Impromptu parties for a small group of friends are fun, but I also love to get into the planning when we do something large.
I like to have a theme when I have a party.  Sometimes it depends on the time of year as to what I decide to do.  Inspiration strikes me at weird times!
Invitations are really important to me.  I want it to set the mood for the party.  And I prefer something unique. I recently sent an interactive box invitation with keepsake pieces that went with the theme of the party which told a story of a Jackson Square tarot reading during carnival season.
I like to think of something unusual for decorations.  Something unexpected that will give a wow factor when guests walk in the door.
My husband, Sam and I make a good team because anything I can dream of as far as decorations go, he can make happen. Like the mini pirogue he built used to display fresh shucked oysters and Mardi Gras umbrellas hanging over the string lit pool.
If it's a party for a large group of people, I have to find a way to utilize all the space in my relatively small house. Don't be afraid to open all areas of the home if you have a small space.  I always have two bars, including one in the master bedroom. This allows guest to get drinks and flow freely.
My recipe advice is to hire a caterer. With all the time I spend putting together the experience, I have to rely on a great chef to pull off the food. This also allows me to enjoy the party and not be stuck in the kitchen.
Emily Vigen
I absolutely love cooking and hosting, but as a mother of three, I need to know my limits when it comes to time spent prepping food in the kitchen (rather than enjoying myself with my kids or guests.)   I have found that the secret to "doing it all" is to really only cook one large dish that kids and adults will both enjoy (making tweaks where necessary, because—as we all know—not every kid likes asparagus.)  It's also important to be able to cook this dish in advance.  If you're hosting a get-together for several families with kids, you're not going to have much time to cook once they all arrive!
The following recipe is a seasoned crowd pleaser in the summer for both adults and kids alike.  Creamy lemony goat cheese pasta with lots of herbs and some healthy veggies thrown in, served piping hot or at room temperature, is sure to be a hit.  It's basically like macaroni and cheese, but with goat cheese and added veggies.  (My kids love goat cheese, but if yours do not, I recommend the Swiss Laughing Cows for a similar creamy texture.) If you do have some seriously picky eaters, follow the instructions through step 9, then put aside a portion of just goat cheese pasta for the kids. (You could always try to throw some peas in?)  Also, to cook this in advance, stop at step 7 until guests arrive and are ready to eat. This recipe works well with other summer produce as well.  Love squash or arugula? Those work as well.  Want more protein? Throw in some sautéed shrimp or have your husband grill some chicken drumsticks for a side dish that is sure to tempt the kiddos.  Serve alongside a simple salad or blanch more asparagus for a crudité platter with a green goddess dressing.  And by all means, pour yourself a glass of crisp, cold wine, and enjoy the summer!
 Herbed Lemon Goat Cheese Pasta
(Serves 6—plus maybe 3 kids) *Read entire recipe instructions before going to the grocery store! I recommend doubling the recipe if you're going to have more guests.
Goat cheese (1 lb crumbled or in a roll) left out to come to room temperature
Corkscrew pasta (1 lb)
Asparagus
Cherry tomatoes
Green peas (frozen)
Mint
Basil
Parsley
Lemon
Set out peas to thaw.
Put water and salt in a large pot to boil pasta
 Chop Mint, Basil, and Parsley. Should come to about 1 cereal bowl full of herbs. Zest one lemon and add to herbs.
Cut asparagus to bite sized chunks. Prepare water to boil the asparagus.
Slice tomatoes.
Boil asparagus for 2-3 minutes (until tender but still bright green).  Immediately drain and transfer to a bowl of ice water (to maintain color).
Add olive oil, salt, pepper, and a dash of cayenne to large bowl and mix. Add in dollops of soft goat cheese and mix in well.
Boil pasta to instructions then drain, reserving at least one cup of pasta water.
Pour pasta over goat cheese mixture and toss until goat cheese is completely melted and all of the pasta is coated in cheese.
Add the herb mixture to the pasta mixture and mix again.
Add the asparagus, tomatoes, and green peas. Toss and serve!
Patti Harper
I'm a list maker so my parties start with a list of the guests, the menu, and decorations that suit the season. Summer months are perfect for patriotic themes and Jerry and I enjoy entertaining outside. I love using small colorful pots of flowers on the table and clip fresh magnolia leaves to add greenery.
To prepare for a large party, I create a menu that is not complicated. Easy but delicious recipes are the best and we try to serve southern classics made with summer fresh vegetables. One of our favorite menus includes squash casserole, horseradish mashed potatoes, a special family recipe of coleslaw, baked ham and cornbread.
I always prepare everything but the ham the day before. Then 30 minutes before the party I pop everything in the oven and enjoy the evening! Whether we are hosting our family or 100 friends, simple food is our go to.
I've made Ham Baked in Beer since 1977 and it's a staple for the 4th of July, Christmas and Easter. It's easy and makes the kitchen smell heavenly!
 Aunt Pat's Famous Slaw
Dressing:
1 cup mayo (or use plain greek yogurt)
3 tbs sugar (agave or honey)
1 ½ tbs vinegar (such as apple cider or white wine)
½ tsp salt and pepper
½ head of shredded cabbage (use red and green for extra color)
1 bunch green onions, diced
Mix dressing and pour over cabbage, garnish with green onion
Ham Baked in Beer
1 ham – bone in is best but this will work with boneless
2 garlic cloves, chopped
1 large jar of molasses (agave or honey)
1 bottle or can of beer (not lite beer!)
3 tbsp dry mustard
Score the ham across the top and place garlic over top.
Mix together all other ingredients and pour over the ham. Bake at 325 for several hours basting with the drippings ever 20 mins or so.