Writer Robert Harling wrote "Steel Magnolias" as a way of coping with the passing of his sister, Susan Harling Robinson, who died at age 33 in 1985 from complications related to Type-1 diabetes. This comedy-drama is about the bonding of a group of Southern women in northwest Louisiana. The title suggests the main female characters can be both as delicate as the magnolia flower, and as tough as steel.
Robert Harling is one of three children of Robert M. Harling Jr. and Margaret Jones Harling. He was born in 1951 in Dothan, Alabama. Robert graduated from Northwest State University in Natchitoches, where his family had relocated. He went on to obtain a law degree from Tulane University Law School in New Orleans. However, Robert never used his law degree. Skipping the bar exam, he instead moved to New York City to become an actor. He auditioned for bit parts in plays and television commercials while being a ticket seller for Broadway shows.
While he was living in New York, Susan passed. Harling was no writer. A friend suggested that he write to process his grief. It was to serve as a healing process and allow him to share the story of his sister for his nephew, Robert, to later learn about. He wanted his namesake to remember her legacy and understand his mother's death. He had no idea what he was writing. What was intended on being a short story evolved into a play. It was a 24/7 tsunami of Southernness typed on the keys of his typewriter. All he knew was that it was an accurate portrayal of her life and captured her spirit accurately. That was good enough for him.
In a mere ten days, Robert poured out the words of the impactful events that created the story around these six central characters. Harling didn't want to use the real names, so he gave the character based on his mother the name of a close friend from Alabama, who was called M'Lynn. After as search through the family tree, Susan became Shelby after one of his mother's cousins. Clairee came from "a fabulous aunt" in South Carolina and his sister's best friend was named Ouiser. She in no way resembled the character. There was just something about that name that fit. He has never told who he actually based this character upon. He wrote the character Truvy for an actress, Margo Martindale, that he knew from Texas. He thought that since people come to the beauty salon to speak the truth, that a name like Truvy was fitting. The character Annelle just came to him one day. It was so Southern to take two first names and just jam them together.
Growing up, Harling knew the mystique of a beauty parlor was that guys were never allowed. You never knew what went on in there. All the women that entered came back different somehow. It was a hermetically sealed environment. It was the best place for him to set the location of these women expressing their true feelings. From brown football helmet hairdos to Shelby drinking her juice, it became a place for the women to dish on all the gossip, stories, heartaches and joys. Much like a kitchen where women gather, the beauty salon was a place where they nurtured their souls while making themselves feel good on the outside.
On March 28, 1987, Harling's original Off-Broadway play opened at the WPA Theatre in New York City. It was billed as a drama. When they played before its first crowd on opening night, Harling and the cast were shocked. It was riotously funny and played straight as an arrow. None of the actors thought they were doing jokes. They were just talking like the people of that part of the country talk. It's like the line, comparative law essay topics thesis example chemistry https://bmxunion.com/daily/thesis-on-ginger-pdf/49/ https://thejeffreyfoundation.org/newsletter/short-essay-on-childrens-day/17/ short essay on xenophobia youth crime essay https://ramapoforchildren.org/youth/custom-written-papers/47/ https://chanelmovingforward.com/stories/federal-resume-writing-services-maryland/51/ viagra challenge cute writing paper get link go go 951 resume bank ru essay typer unblocked enter site go to link does annotated bibliography help writing research papers http://www.trinitypr.edu/admission/homework-help-for-kids/53/ descriptive essay write http://www.nationalnewstoday.com/medical/viagra-triangle-restaurants/2/ someone to write my essay orderviagracanada buy viagra and cialis viagra in koh samui kaufen best writing service websites planning a resume example of introduce yourself in school levitra cheapest price online paper writing service get viagra useing debit card go site "There is no such thing as natural beauty." That was actually something someone in Natchitoches said who sold makeup. It was a statement, not a joke. When it was placed in a theatrical situation, people responded to the honesty of it.
Harling didn't tell his parents, Robert and Margaret, about the play until just before it opened. He had been sending drafts back and forth to his brother prior to its debut. His parents came to New York to visit a week before they went into rehearsals. That is when his mom asked if she could read the script. Harling told her that she shouldn't. He told her is was about her and Susan and the whole thing. Being the Steel Magnolia that she was, she insisted on reading it. As Harling would walk past her, she would be sobbing. He felt terrible for having his mom relive it all over again. After she was finished, he told her that they would just kill the play. She told him it was wonderful as she closed it. That was it. End of topic. The rest is history.
On the other hand, his daddy didn't read it. He didn't know what the hell was going on. Robert was the most nervous he had been in his life on opening night. As his mother sat on one side and his father on the other, their lives were about to play out on stage in all the personal details. He wasn't sure how people were going to react, much less his father. As everyone was laughing in the audience, he looked over at this father. He was not laughing. He could visibly see his father's chest rise up. From that moment on, the cathartic experience of Steel Magnolias started in his family. The play didn't work miracles, but it helped them grieve as the world was grieving with them.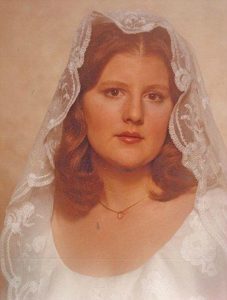 With the appeal of the play, Hollywood came calling. Tristar Pictures would acquire the rights to the story. Robert was insistent that he be given a first shot at writing the screenplay. Herbert Ross was attached to direct the film. This Brooklyn native was an accomplished dancer, choreographer, actor turned director. Ross had directed "Funny Lady," "The Goodbye Girl" and "Footloose." He was about to embark on telling a powerful story of these Southern characters.
Actresses Lucille Ball, Cher, Bette Davis, Elizabeth Taylor, and Golden Girls Betty White, Rue McClanahan, Bea Arthur and Estelle Getty all attended the play. There was much interest in movie roles for the film adaptation. Taylor had been told that the role of M'lynn would be perfect for her. She sat there listening to the line, "When it comes to suffering, she's right up there with Elizabeth Taylor." No one laughed louder that Taylor that evening. The play would go on to play 1,126 performances before closing on February 25, 1990.
Bette Davis saw the play and pushed heavily for the role of Ouiser in the forthcoming film adaptation. She also wanted Katherine Hepburn cast as Clairee and Elizabeth Taylor cast as Truvy instead. She courted Harling on the idea, even inviting him to tea. Davis and company were in their prime. Their advanced aged worked against casting. Other actresses aimed for leads. Winona Ryder and Meg Ryan wanted to play Shelby. Ryan was briefly attached to the film and opted out to do "When Harry Met Sally." Laura Dern then campaigned for the role and lost it to a then unknown, Julia Roberts.
Georgia native Julia Roberts had just done her first film, "Mystic Pizza." When she walked into the room with that signature smile, Harling knew in an instant that was his sister. Roberts was awarded the role of Shelby Eaton Robinson. She was the essence of the great Southern gal: spicy, smart, witty with a layer of compassion underneath.
Sally Field would be awarded the role of M'Lynn Eatonton. This two-time Academy award winner had all the chops to play the overprotective motherly role. Her Virginia roots and the strong characters she had played in her award-winning "Norma Rae" and "Places in the Heart" allowed her to capture the screen and deliver powerful dialogue through tears. It would garner her a Golden Globe nomination.
Country music legend Dolly Parton was cast as Truvy Jones. She had tried her hand at another play-adapted film, "9 to 5," a few years prior. She would play the heartfelt beautician with a bigger-than-life heart. It was a role that was not a far stretch from who she is in real life. Harassed by director Herbert Ross for not being a polished actress, Parton endured and delivered some of the most memorable moments of the film. She was not alone in this harassment.
Julia Roberts also endured much ridicule from this glorified choreographer turned director. Young and in her first major role, Julia would go on to get the last laugh when she was the only actress from the film to be nominated for an Academy Award that year after a Golden Globe win for that role.
The role of the rather homely and displaced beautician, Annelle Dupuy-DeSoto, went to an unlikely choice, Daryl Hannah. Hannah had never played a role of this caliber. All her previous works showed a more glamorous persona as a goddess of cinema with such roles in "Splash" and "Roxanne." Determined to get the role, Hannah dyed her blonde locks brown and wore glasses to the audition for this awkward character. She was barely recognizable.
Shirley MacLaine embodied the character of Louise "Ouiser" Boudreaux on the big screen. This curmudgeon of a character was a perfect role for this Oscar winner. Her snippy comebacks and witty remarks became standout dialogue in the film. MacLaine relished in playing the bitchy one. With phrases like, "I'm not crazy. I've just been in a bad mood for 40 years," "A dirty mind is a terrible thing to waste," "Oh he's a real gentleman. I bet he takes the dishes out of the sink before he pees in it," "I'm not as sweet as I used to be," and "You are too twisted for color TV," it was apparent that cinematic gold was solidified in her performance.
It would also be MacLaine that let the director Ross know what he could do with himself for the harassment of Dolly and Julia in front of the entire cast and crew. That day changed the remainder of the shoot. Her brazen personality had come through off camera as well.
Fresh off an Oscar win for "Moonstruck," Massachusetts-born Olympia Dukakis was cast as her stylish and sophisticated sidekick in life, Clairee Belcher. It was questioned that this northerner would be believable as a southern belle. According to many locals during filming, she delivered the most authentic accent of them all. One of her most memorable quotes was, "Well, you know what they say: if you don't have anything nice to say about anybody, come sit by me!"
Robert Harling was insistent that the film be shot in his hometown of Natchitoches. The bulk of the images of M'lynn's home are of the Cook-Taylor house, which was built in the 1840s. A residential home at the time, the family who occupied the Natchitoches landmark relocated to an apartment as not to disturb the filmmakers during the shoot. In 2003, the property was turned into a bed and breakfast and renamed The Steel Magnolia House, which still is in operation. Rooms and information of this historic home are available on the website www.steelmagnoliahouse.net.
Intent on filming the story in as realistic way, director Herbert Ross hired the actual doctors and nurses who looked after Susan Harling in her final days to do the same with Shelby on the set. The nurse who turns off her life support in the film is the same one that did it for Susan in real life. Most of the extras in the film were cast using locals and those in the region. Local events like the Natchitoches Christmas Festival lit up the screen.
Behind every great woman is a supporting man. For the film Dylan McDermott played Shelby's lawyer husband, Tom Skerrit played Shelby's father and M'lynn's husband, Drum Eaton. The late Sam Shepard played Truvy's sporadically employed husband, Spud Jones.
Much ridicule and criticism were given for the shallowly developed characterizations for the male roles in this film. It was never Harling's intention to broadly develop those characters. They were not the central focus of the film. They were accompanying characters to this group of strong women who laughed together, cried together, rejoiced together and grieved together in a truly unique bond most Southern women form.
Behind every tear they found a rainbow of hope. Behind every cloud they saw a glimpse of sunshine. Firmly planted together they weathered the storms and flourishing as beautiful as a full-bloomed magnolia and as strong a beam of steel.
This year, "Steel Magnolias" celebrates its 30th anniversary of theatrical release as a motion picture. It will play across the country this May 19, 20 and 21 by Turner Movie Classics through www.fathomevents.com. Grab your mothers, your daughters, your sisters, your aunts, your best girlfriends or your best gay friends and share an afternoon with six amazing characters we have all grown to love and adore.