– Christmas traditions are alive and well with the Iubas family in Greenwood, Louisiana
Close to the Louisiana/Texas border, a home well known for its amazing Christmas displays brings love and tradition to all that visit.  Lights, manger scenes and holiday cheer are the norm for this family where each and every holiday is celebrated in grand fashion – all for the kids.
Imagine Easter egg hunts with over 700 eggs, entire rooms filled with collector Christmas villages, even a peppermint room where everything is white/red/silver – every occasion is a celebration where the family gathers. This is life with the Iubas family, where just being a family is reason enough to celebrate.
Gail Iubas is a maker of magic and protector of tradition.  Pouring every ounce of her energy into the holidays, Gail's mission is to create heartwarming memories for her family just as her mother did for her.
Adopted at the age of 4, Gail and her adopted brother, Gary McDaniel, knew they had hit the parent jackpot. Gail was aware as a young child that older children have less chance of finding a family. Being chosen by a family to be loved, to be a part of, a forever home – is something she holds dear to her heart.
Garry and Gail, two lucky kids, went from having no family or home to a picturesque situation where they were taught the true meaning of love – the love of a family.
Their beloved mother, Claire McDaniel Nolley, taught them to love deeply, laugh a lot, and cherish their traditions, which is exactly what Gail has done.
Though the holidays were full of glitz and glamour, Gail and her mother spent countless hours hand-making many ornaments, decorating the home, and purchasing gifts for every family member.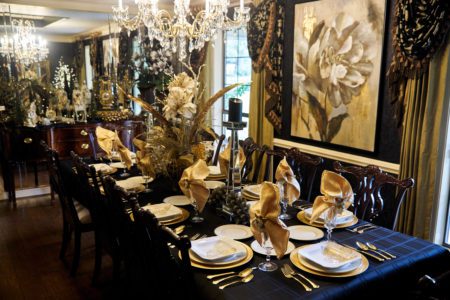 Now, as Gail pulls out her boxes of decorations, though they may be tattered or torn, her favorites are the ones she made sitting beside her precious mother, a mother she had always wished for and now had.
Some of the ornaments have lost their sparkle, some are too frail to bring out, yet Gail finds great joy at every glance. These are not just things, these are small pieces of her mother's spirit that still lives within her home.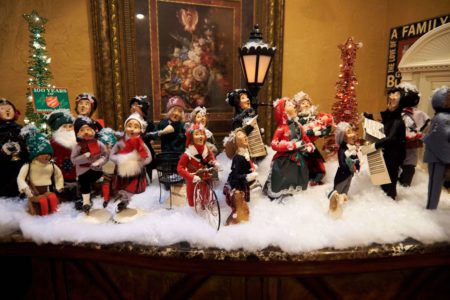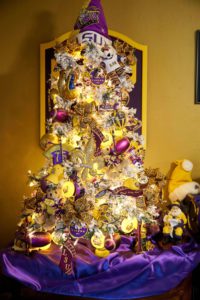 With each room of her home decorated in a theme, color coordinated, and full of life – every time Gail walks past the 1970s felt tree skirt she and her mother made with glue and scissors, she smiles. This treasure has stood the test of time.  An otherwise ordinary tree skirt represents everything her mother taught her about love, about life, and most importantly about family.
Behind all of the tinsel, the thousands of outside lights, the sparkles – this home is decorated as a remembrance to person who gave her a family, who gave her a home.  A person who gave her unconditional love.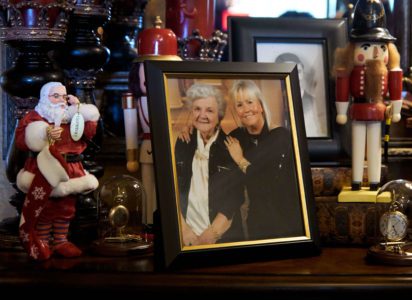 Gail's mother was by her side decorating even at the age of 87.  Now, Gail continues the decorating tradition for the next generation of youngsters – her grandchildren, nieces and nephews.
Each room in her home is a wonderland with its own theme and tree. Tuxedos and top hats, LSU, woodsy, peppermint – each done with love to bring the family together and make something special of the holiday.
She is magic. She is tradition. She is loved.