When I left Shreveport in pursuit of my legal education three years ago, I left with a sense of hopefulness, eager to be one step closer to achieving my goal of becoming a business lawyer. I understood that the years ahead would be difficult, in an academic sense, but I was entirely unprepared for difficulties that lay ahead.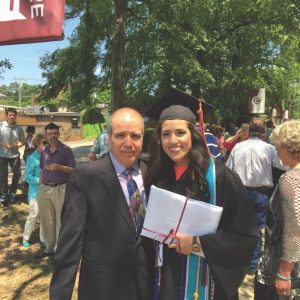 The summer after my first year of law school, I awoke to discover my biggest cheerleader in life, my dad had unexpectedly passed away. Returning to school after my father's death, my motivation was low, my heart was broken and the challenge to prevail was great. My family had insisted that I complete my studies, because it would have been my father's wish. My brother, Juan, selflessly agreed to continue operating the restaurant, and while I appreciated his willingness, a part of me didn't want to leave. I knew that I would be surrounded by my classmates and friends, but I had never felt so alone. My first night in Waco, I cried at the thought of starting school again and no longer being able to call my father when I had a bad day, when I had car troubles, or when I simply wanted to hear his voice. My father had always known what to say and what to do, and I felt lost without him.
I faced many challenges that second year of school and as I struggled to forge on I would remember my father's words to my brother and me, "When you fall down, you don't lay there forever. You pick yourself up and you keep going." I realized that I had been "laying down" for far too long. I knew that I would always grieve my dad, but he wouldn't want his passing to tarnish my outlook on life. My father would want me to keep studying and to continue to better myself. I pushed through the year, and with the support of my friends and family, I completed my second year of law school.
That following summer, I felt a renewed sense of purpose as I came home to Shreveport. I was finally at a point where I felt like my life, both personally and professionally, was under control. Two weeks before my summer internship ended, as I was working on an assignment late one Saturday night. I noticed that I had several missed calls from my uncle, my brother, and the restaurant. My heart sank, as I feared something had happened to my mother. I called everyone repeatedly until I finally reached my uncle. He explained to me that Juan had been shot while protecting my mother from being robbed in the parking lot of our family restaurant. Juan fighting for his life, and once again, our world had been flipped on its head.
As August drew closer, we realized that Juan would be in the hospital for quite some time. I was faced with deciding if I should return to school or stay home with my mother and Juan. I wanted to stay and be a source of comfort for my mother, but I knew that if I didn't go back to school that fall, I wouldn't graduate on time. Juan's condition had suddenly taken a turn for the worst with one physician giving him a 25 percent chance of survival. After delaying my return to Waco for a week, my mother insisted that I resume my studies. She reminded me of my father's wishes for me, and said that she would be praying not only for Juan, but for me as well.
As I walked into that last year of law school I felt as emotionally defeated as the year before, but I knew that I had to keep going. I threw myself into my school work attempting to lessen my constant worry. My classmates provided me with great support, always asking about Juan, lifting my family in prayer, and even going as far as preparing dinner for me on busy nights. As that fall quarter progressed, Juan's condition improved, and that was the encouragement that I needed to continue. Nothing will ever compare to coming home after finals that year. When walking into my home, there was Juan, sitting on the couch, laughing in surprise at my tears. I hugged my brother, and that was truly one of the best moments in my life. After that break with family and friends, I returned to Waco, more determined than ever to finish the race, and that is exactly what I did. I graduated!
At times, I struggle with words, when people congratulate me for graduating law school. It almost feels like someone else has lived these last three years! I am so lucky to have a family that loves and supports me and friends that are there every step of the way. As I go to work each day, I hear father's words and realize that everything will be okay. After all, "If you fall down, you can't lay there forever. All you need to do is pick yourself up and keep going".