And then there were five…
Until then, we were your average family. Married right out of college, moved to New Braunfels, Texas, both starting new jobs, bought a house, and then said, "Now what?" Actually, the "now what?" started a year later when we moved back home to be near family. "How about kids?" sounded like a plan, and within a few short years we were Mom and Dad to two boys.
We learned quickly that having two boys can keep you busy and leave little time for boredom. In the blink of an eye, Brennan was soon to be starting kindergarten and John-Luke was climbing from tables to cabinets to leaping off the couches when we learned that not one more, but THREE more, would be added to the Gutman family.
My immediate reaction was fear, shock, and absolute hysteria until our oldest child showed me another way to look at it. He overheard my mom and me discussing the situation and asked, "What are you talking about?" Without caring at the moment how he would respond, I just blurted out "I have three babies in my tummy!" He got the biggest smile, took off running a full circle around the outside of the house and finally slowed down to respond in words, "This is the happiest day of my life! I always wanted a big family!" Needless to say, it was through "the mouth of babes" that caused me to accept everything would be fine. God was in control and wasn't surprised at all. It wasn't normal for me to have a "one day at a time" attitude, but it has definitely become the mantra to live by.
It would be impossible to describe what it's like having five boys other than point out it takes a whole lot of diapers, milk and stain stick. There are more teeth to brush and it takes longer to get buckled up, lots and lots of toys, and Legos… the tiny Legos. Fortunately, I'm not exactly a neat freak or ever been accused of OCD, but I think that works to my advantage in this deal. If you are ever interested in a visit, be prepared to watch where you step and look before you sit down. Oh, and as for getting out… You can forget about taking them on a quick errand or two… There's really not enough space here to describe the types of disasters that could occur.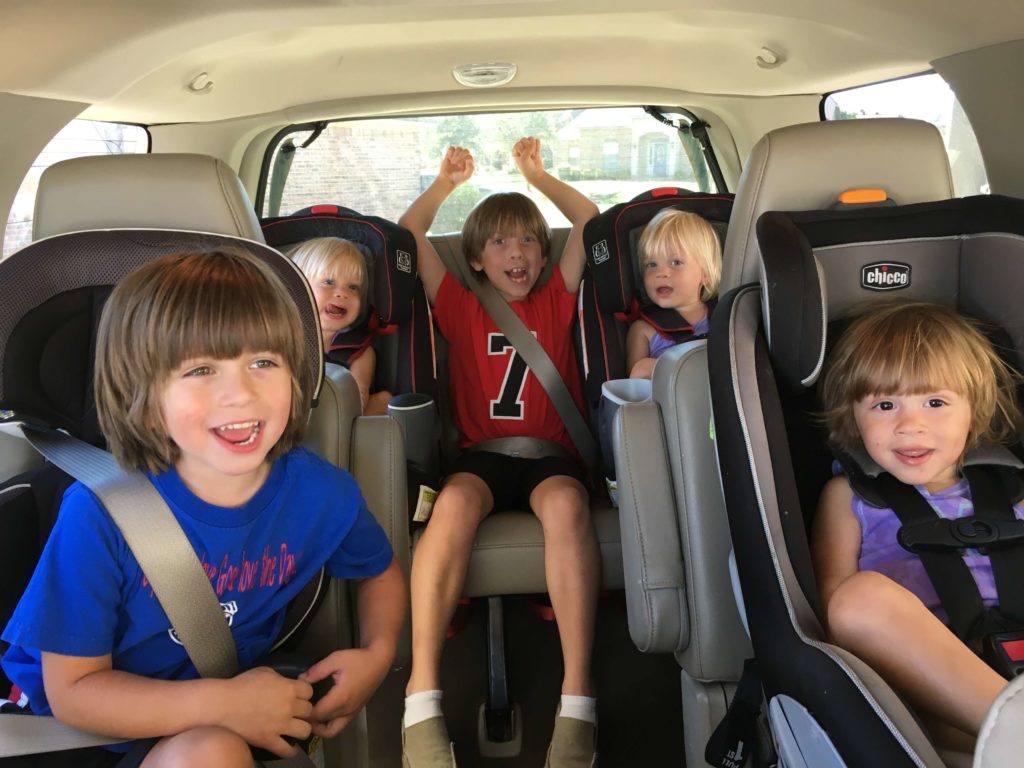 Someone once suggested I just "take them to the park for a fun outing" and even our 3-year-old at the time replied, "Oh no, we can't do that. Our babies would run away." At times it can be pretty chaotic, crazy, and messy, but Mike and I truly would not change a thing. One thing that continues to amaze us is that each one of them is so very different and unique. Five completely different personalities and individual traits, but a brotherhood that is undeniable.
We've gotten fairly used to peoples' looks and comments such as, "Don't you know how that happens? Are those all yours? No girls! That's a basketball team! And I'm just hoping for a lawn service." Whatever they decide to do, Mike and I know that we've been truly blessed and will do all we can to bring them up in the nurture and admonition of the Lord and hope they learn to love and serve God in whatever they choose to do. Oh, and by the way, the fun isn't looking to end anytime soon as baby boy number SIX is on the way, with the expected arrival in December 2018.