Not only will these crafts let your kids unleash their creativity, but they can also add that touch of fall to your home. So, let your kids have some fun this fall and make the most of this season.
Candy Corn Banner
This craft is an easy one that even the youngest of children can make, and it's a great piece to hang up on the fireplace to bring those fall colors to the room!
You'll Need:
white paper plates
yellow and orange paint
some string
pair of kids' crafting scissors
Paint a yellow ring on the outside of the paper plate about an inch and a half thick to serve as the bottom of the candy corn.
After the yellow paint has dried, paint an orange ring inside the yellow. Make sure to leave a white circle in the middle of the plate.
Once the paint is all dry, cut in into triangles to make candy corn. Cut the plate in half and then half again to make the pieces even in size.
Attach the candy corn pieces onto a piece of twine or ribbon and hang it up!
Another fun alternative to this craft is to paint the pieces so they look like pumpkin pie. You can even cut out stripes of paper and glue them on top to look like pie lattice or glue a cotton ball in the middle of a piece to serve as whipped cream.
Yarn Pumpkins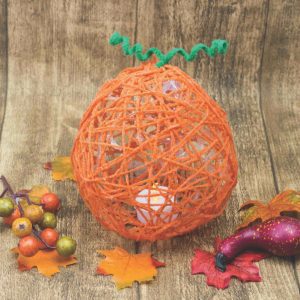 Have your little ones help create some fall décor with these cute yarn pumpkins! These little pumpkins are as easy to make as they are fun.
Be warned, this craft can get messy; make sure to lay down some newspaper or parchment paper on your children's work surface for easy cleanup.
If you would like your pumpkins to be sturdier, feel free to switch out the school glue with Mod Podge.
You'll Need:
orange yarn
white school glue
balloons
pipe cleaners
Cut the yarn into several pieces, anywhere from one to two feet long.
Blow up a balloon about halfway to where it's nice and round but not all the way filled with air.
Fill a bowl with the glue and dip each piece of yarn into it; wipe excess glue gently off so yarn is saturated but not dripping heavily.Wrap each piece of yarn sporadically around balloon, making sure pieces overlap.
Continue to cover balloon in yarn pieces but make sure to leave open spaces to see the balloon underneath.
Once satisfied with coverage, leave the pumpkin to dry.When completely dry, pop the balloon inside and pull it carefully out from the yarn.
Twist up a brown pipe cleaner and attach it to the top of the pumpkin to serve as the stem, and add some curly green pipe cleaners around it to act as the vines!
Pumpkin Pie Playdough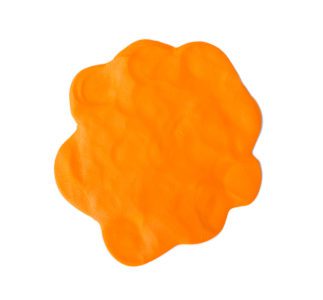 Playdough has been a favorite of children for years, but now your kids can make their own playdough and even theme it for the fall season. This playdough is completely edible (although not very tasty), smells delicious, and is safe for your little ones!
This recipe requires a stovetop, so make sure to keep your kiddos safe if they help with this craft!
You'll Need:
flour
salt
water
oil
cream of tartar
pumpkin pie spice
vanilla extract
red & yellow food coloring
Mix one cup of flour, one half cup of salt, two tablespoons of cream of tartar and two tablespoons of the pumpkin spice in a saucepan.
Once the dry ingredients are mixed, add in one cup of water, two tablespoons of oil, and one teaspoon of vanilla extract.
Add a few drops of yellow and red food coloring to make the mixture orange like a pumpkin pie!
Heat the mixture over medium heat and stir consistently until it turns into a playdough consistency – stiff enough to hold shape but still soft enough to mold.
Allow the dough to cool completely for up to 20 minutes before letting your children play with it.