An Outdoor Moroccan Dinner Party
We love the concept of the backyard dinner party — not only does it make you feel connected to your friends and family, but also being surrounded by things that are living (plants, flowers, herbs, trees) has a calming effect. You can't help but be inspired by the thought of lounging in the grass, watching the sky transition from bright blue to dusky pink as the day turns to night. Life is busy. So busy. Sometimes it's hard to stop, but when you make the effort to create a truly beautiful space it gives you a wonderful excuse to STOP – and enjoy it! And when you create somewhere special like this, and see all your loved ones stopping to enjoy the moment too, it's all worth it.
1. Themed Parties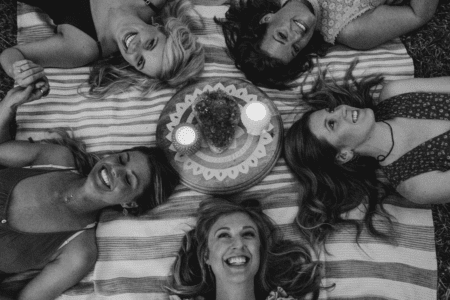 THEMED PARTIES ARE THE WAY TO GO EVERY SINGLE TIME! To find inspiration, select a favorite recipe or drink you want to try and let it evolve from there. We decided on a Moroccan Moon Gazing theme. The full moon is thought to be a symbol of letting go. In this case we are letting go of the stagnant winter and welcoming the spring and summer with all its blooms and blossoms.
2. Say Yes to Snack Boards
I'M ALL ABOUT THE SNACK BOARD. It's a super fun way to keep with party interactive and allows your guests to design a meal for their tastes. The more flavors the better! Like DIY bruschetta or in this case, hummus and dips. Aim for lighter dishes that use a lot of plants and maybe even healing ingredients, such as certain herbs and spices. Cooking and dining with one another is the most ancient way to connect, so have your guests help you prepare and decorate. The day of the party, get your guests excited for the meal they'll be making by setting out the ingredients in a beautiful display. Make bouquets of fresh herbs and greens; mound vegetables into bowls grouped by color; and put out spices into small bowls so that everyone can take in their gorgeous colors and intoxicating smells.
3. Iced Drinks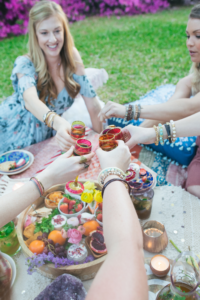 DRINKS! Green mint tea is super traditional for a Moroccan dinner, but with the weather warming up, I wanted to make an iced version. So I made an iced mint tea with a little lemon and then topped it off with some sparkling water… because you can never go wrong with adding just a little fizz. If you wanted to make these more of a cocktail, just add a splash of vodka…which would not only be extra delicious, but if you are hosting a big party…possibly quite necessary!
4. Something Sweet
NO PARTY IS COMPLETE WITHOUT SOMETHING SWEET: Instead of making the traditional rice pudding, we opted for an easier more time-friendly chia pudding. Sweetened with honey and flavored with a touch of vanilla and rose water, and then topped with pomegranates, pistachios, and more honey. Perfection!
5. Set the Mood

SET THE MOOD: There's nothing that says "relax here" more than a soft throw or a cozy cushion. We laid down rugs and blankets, placed wooden pallets on top (found at local warehouse) then draped them with more blankets and runners. Tossed around floor pillows and more blankets for the ultimate cozy feel. Decorate with lots of candles and fresh plants. Try gathering flowers and foliage from the surrounding area, put into short vases and even place them freely around the table.
6. Bond and Enjoy

BOND AND ENJOY! Light the candles, pour some drinks, let your hair down and enjoy the evening!
Recipes:
Colorful Hummus 5 Ways!
1 can chickpeas, drained and rinsed 1 tbsp kosher salt, plus
more to taste
1⁄2 c tahini
Juice of two lemons
6 tbsp olive oil give or take depending on how smooth you like,
plus more to garnish
2 garlic cloves
Dash of freshly ground black pepper
• Add all ingredients to a food processor. Purée
until smooth. Transfer to a bowl and garnish
with a drizzle of olive oil, then serve with pita
chips and fresh veggies.
Make It Pink—
• add 2 medium roasted red beets, peeled and
roughly chopped + 1 tsp red wine vinegar
Make It Yellow—
• 2 medium carrots, grated + 2 tbsp white
prepared horseradish + 2 tbsp orange juice + 2
tsp turmeric
Make It Green—
• 2 c fresh or frozen peas cooked
Make It Orange—
• 2 roasted red peppers (1 c) + 1⁄4 c harissa + 1
tbsp sweet paprika
Marinated Goat Cheese
1 log (10 ounces) goat cheese
1 cup chopped fresh herbs, I use thyme and mint
crushed red pepper flakes
extra virgin olive oil
• Cut the goat cheese into rounds and place in an
8×8 inch baking dish.
• Sprinkle with herbs and red pepper fakes. Pour
olive oil over top, mostly submerging the goat
cheese. Let sit 1 hour or up to 2 days in the fridge.
• Bring to room temperature before serving. Sprinkle
with pomegranate arils, if desired.
Moroccan Snack Board
1 cup red harissa, homemade or store-bought
1 cup hummus, homemade or store-bought
1 cup spicy marinated green olives
1 jar wedges of fresh lemons, or preserved lemons
1 jar (8 ounces) marinated artichokes
fresh radishes, halved
fresh carrots
fresh mint and or cilantro
assorted fruits, such as dried apricots, blood oranges, and
pomegranate
roasted pistachios and or marcona almonds
fresh naan, homemade or store-bought
• Arrange the harissa, goat cheese, and olives
on a large platter arrange the remaining fruits,
veggies, herbs, nuts, and naan around the dips.
Serve.