It's time to un-cork Louisiana's tastiest craze – and see what's bubbling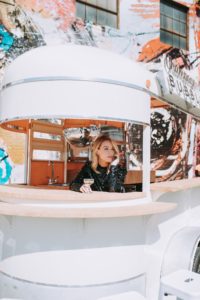 Something's popping in Shreveport and it's more than the corks to the bubbly. Champagne Charlie's Portable Bubble Bar is serving up Champagne and Prosecco….um, YES!
Just as sparkling and bubbly as the Prosecco she serves, Casey David has embarked on a journey that will have her at every festival in the South soon enough.  Champagne Charlie's Bubble Bar is the latest and greatest in pop-ups as a portable bar serving up Champagne and Prosecco as Casey peddles her passion – a little bit of bubbly to celebrate life itself.
Taking her love of bubbly to the next level, the concept for her portable Bubble Bar all began with a vintage horse trailer.  As an up-cycle, green project, the trailer is pure perfection compete with a disco ball, three bartenders, and the exact cork used to cork her beloved bottles of bubbly as the surfaces for the bar – Portuguese Cork, a renewable resource.
No longer do non-beer and hard alcohol drinkers have to suffer in silence because the bubbles are ready to be at all the hot spots. With eyes on events all over the South, Champagne Charlie's Bubble Bar is hitting the road serving up sparklings to thirsty goers. With bubbles on tap, it's time to throw caution to the wind and sip some sparklings.
Get those corks popping at any private event, wedding or festival, Champagne Charlie's Bubble Bar has hit the scene and will be in high demand.
Where did the name come from?
Taken from the first song ever written about Champagne in 1868, "Champagne Charlie" is about George Leybourne's
Champagne Charlie stage character. The song was composed by Alfred Lee and written by George Leybourne.
Champagne Charlie's BUBBLE 101
• Always sip from a clear glass to enjoy the bubbles
• If there are no bubbles, it's not worth drinking (it's gone flat)
Sparkling Wine Break Down:
Sparkling wine is a blanket term – not referring to a specific region as some regions have their own names for their "sparkling wine."
Prosecco – sparkling wine from the Veneto region of Italy. Generally speaking, Proseccos will be sweeter in taste than Champagnes or Cavas.
Cava –  sparkling wine from Spain (and made with some unique grapes with spicy little names like Macabeu, Parellada, and Xarello.
Champagne – sparkling wine that is specifically produced from the Champagne region of France. • Sparkling produced here in the states uses the term "Sparkling Wine."
• Cava and Champagne are more alike in structure. If out at a restaurant, and Champagne is not in your budget, order the Cava!
• If there is only a sparkling option (U.S. produced) …good LUCK, that's like rolling huge set of dice….so ask the waiter or bartender for some direction
• Sparklings are meant to be served in flute but prefer the coupe. • A pressure cork will give your bottle another day or two of freshness.
Champagne Charlie's Disco Bar Facts:
• There are about 49 million bubbles in a bottle of bubbly.
• The smaller the bubble, the higher quality of the wine.
•  The 'coupe' or goblet shaped glass used for drinking champagne was rumored to have been modeled after Marie ANTOINETTE'S BREAST!!!
• Marilyn Monroe once bathed with champagne; 350 bottles were used to fill the tub.
• James Bond is ACTUALLY seen drinking more champagne than martinis in his movies.
• The cork of the champagne bottle can pop at a velocity of 40 miles per hour and it can even reach to a speed of 100 miles per hour.
• Bubbly pairs well with ALL food, burgers, caviar, crawfish …and it's the only acceptable drink to have before noon!